This is an archived article and the information in the article may be outdated. Please look at the time stamp on the story to see when it was last updated.
EL RENO, Okla. — Deputies found what is called a 'suicide load' of marijuana, leading to the arrest of a California man in Oklahoma.
Rafael Galvan, 43, was driving a black rented Nissan Altima when he was pulled over for several traffic violations.
Deputies say the man was acting suspicious, so they decided to call for a drug dog. Pickles was just the dog for the job.
During the search, deputies found 100 pounds of marijuana in the trunk of the car. The drugs were in two black duffle bags in plain sight; commonly referred to by law enforcement as a Suicide Load due to the lack of attempt to conceal the drugs.
The marijuana is believed to be of extremely high grade marijuana known as Hydro, and was packaged in 72 individually vacuum packed plastic bags and covered in baking soda, according to officials.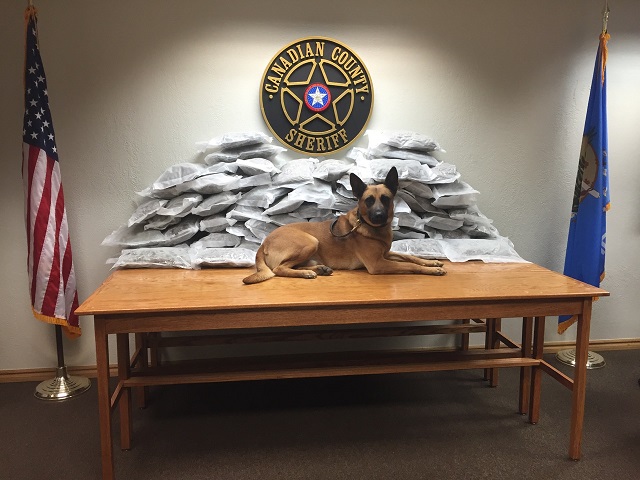 "I guess Galvan thought the baking soda would aid in masking the odor from detection by law enforcement.  What he didn't know is that we have Pickles in our drug fighting arsenal," said Randall Edwards, Canadian County Sheriff.
The weed found in Galvan's rental car is estimated to possess a street value of around a half a million dollars.
"Galvan told my deputies he was on disability, and said he had no knowledge of the drugs in the trunk, nor did he know how they got there," Edwards said.
The suspect was taken into custody and transported to the Canadian County Jail, where he was booked for Trafficking in Marijuana.  He remains in custody on $100,000 bond.