This is an archived article and the information in the article may be outdated. Please look at the time stamp on the story to see when it was last updated.
CUSHING, Okla. – Police have arrested a man in connection to recent bank robberies in Cushing.
Lucien Brown was arrested August 22 on a federal complaint of bank robbery.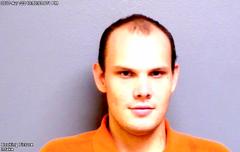 Brown was transported to the Cushing Police Department where he was then interviewed by a Federal Agent.
After the interview, Brown was transported to the Payne County jail and later turned over to the U.S. Marshalls Service.
"The arrest came as a result of citizens and law enforcement working together", Chief Folden said.  "I would like to thank, members of the FBI, Cushing Police Department, Oklahoma State Bureau of Investigation and Payne County Sheriff's Department for their countless hours given, thus far, during these investigations."
Both robberies are still under investigation.