This is an archived article and the information in the article may be outdated. Please look at the time stamp on the story to see when it was last updated.
EDMOND, Okla. - A man is behind bars and another in the hospital following a violent stabbing that led to a standoff in Edmond early Thursday morning.
Police and the SWAT team forced their way into a mobile home where the alleged attacker was hiding.
Neighbors were on edge as they watched the chaos unfold.
Blood is smeared on the home, right next to some children's toys.
"You just never know who your neighbors are," said Matthew McWilliams.
McWilliams and other neighbors were asked to stay inside their homes, whiles others were evacuated for their safety.
"We saw the cops knocking on the trailer constantly, shining lights in, trying to get any sort of response from him," said McWilliams.
It was just before 3 a.m. on Thursday when Edmond police got a call about a stabbing in Oakridge Estates.
The victim, who was identified as Christopher Hampton, suffered cuts to the chest, abdomen, arm and back.
"He ran from one residence to another and had that person call 911 for him," said Jennifer Monroe, with the Edmond Police Department.
The alleged attacker, Tyler Smith, then barricaded himself inside the home where the vicious altercation took place.
A woman and her child were also inside with the suspect.
Police and the SWAT team tried to negotiate with him to surrender, but eventually forced their way into the home.
"We used our rescue vehicle to penetrate the door on the trailer," said Monroe.
Smith could be heard yelling, "I surrender," and the mother and child came running out of the home.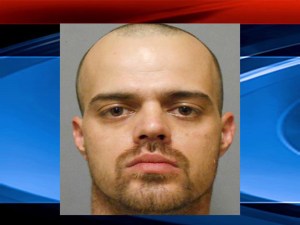 "Our negotiating tactics and how we handled this was trying to make sure that the location of those two others, trying to figure out what was going on inside the trailer to make sure they were safe," said Monroe.
McWilliams said he's heard commotions next door in the past, an unsettling scene too close to home.
"I've heard domestic arguments, what not, going on, nothing beyond that, nothing to this extent," said  McWilliams.
Edmond police are investigating, trying to find out the relationship between the suspect and the victim.
Smith was arrested for assault with a deadly weapon.
At last check, Hampton  underwent surgery for his injuries.