This is an archived article and the information in the article may be outdated. Please look at the time stamp on the story to see when it was last updated.
EL RENO, Okla. – A man was arrested after he unknowingly shared child pornography with members of the Internet Crimes Against Children task force.
61-year-old Richard Stowers was arrested by members of the Canadian County Sheriff's Office at his home Wednesday in El Reno.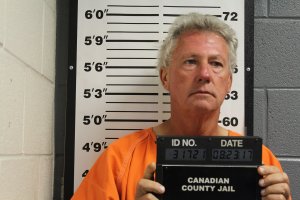 The investigation began last week when investigators determined child pornography was being shared from a computer at Stowers' home in El Reno.
A search warrant was then secured and investigators traveled to El Reno to execute it.
Investigators say Stowers' computer was downloading child pornography at the time the search warrant was executed.
According to officials, Stowers cooperated with investigators and told them he knew he was downloading child pornography, but did not know it was illegal.
Investigators collected various pornographic photographs of children ranging from four to 15 years of age in revealing clothing or nude.
"These predators always try to satisfy their hunger by collecting as much filth as they can. I'm not a bit surprised that when we executed the warrant on Stowers, that we caught him red-handed downloading child pornography," said Chris West, Canadian County Sheriff.
Investigators seized multiple electronic devices from the home for examination.
Stowers was transported to the Canadian County Jail where he was booked on two counts of Possession of Child Pornography.
His bond was set at $100,000.
"People who distribute child pornography causes the victim of the photographs and videos to relive their horrifying moments. People who distribute these rape videos and pictures use it as currency to gain more child pornography for their sick and twisted fantasies," West said.