This is an archived article and the information in the article may be outdated. Please look at the time stamp on the story to see when it was last updated.

EDMOND, Okla. – High heels are generally viewed as a women's accessory but one man in Edmond thought differently and it landed him in jail.
Surveillance video caught a suspect on camera in the act of shoplifting from the Super Target at 2nd St. and Bryant in Edmond.
He came into the store barefoot, went to the women's section and picked out a pair of women's high-heeled shoes, $40 Prabal Gurung pumps to be exact. 
He then walked around the store for a while in the shoes. 
But as soon as he tried to leave, loss prevention officers jumped into action and 18-year-old Sylas Schmiedel was arrested.
When questioned, Schmiedel told officers he was stealing the shoes because he was going to use them for a drag show. 
Kourtney and Joseph Palmer frequently go shopping at the Super Target.
"I just think it's weird," Kourtney said. "Especially a guy walking out with high heels on."
"I mean, it's not something you see every day." Joseph said.
While this case may seem a little odd, Edmond police said this one incident points to an even bigger problem they have.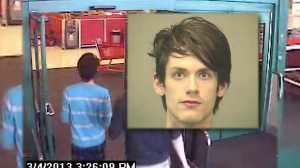 "The number of people that steal just small little-bitty items, inexpensive items, is startling," Jenny Monroe said, the Public Information Specialist of the Edmond Police Department.
In 2012 alone, police responded to almost 1,000 thefts, that's almost three a day!
With the tight security most stores have in place though, authorities said it's almost silly for people to try to shoplift.
"It makes you wonder what all they've seen and what they actually have," Joseph said.
Kourtney said, "It makes me nervous."
 As for the high-heel hijacker, maybe next time he can just use a coupon.