This is an archived article and the information in the article may be outdated. Please look at the time stamp on the story to see when it was last updated.
OKLAHOMA CITY – Officials say the man accused of killing KFOR Sports Director Bob Barry, Jr. has been sent back to Mexico three times in the past for being in the United States illegally.
U.S. Immigration and Customs Enforcement agents said 26-year-old Gustavo Gutierrez was voluntarily returned to Mexico twice in 2010 and once in 2013.
"Voluntary return normally happens near the border. The person's normally detained 30 minutes to an hour and they are witnessed leaving the country, going back across the border," Steven Langer, an Oklahoma immigration attorney, said.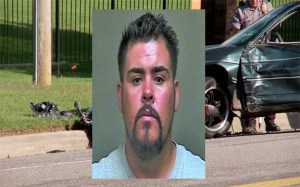 Langer says being deported is different.
"It's a 24-hour process and you are deported from the country and told never to return unless you can do so lawfully," Langer said.
He says if you are deported and enter the country unlawfully, you could face a felony.
Langer believes Gutierrez was caught at the border and officers may have been dealing with bigger issues at the time.
"I would agree that probably in 2013 if the officer had to do it over again, he probably would have given him an expedited removal, but we don't know what the officer was looking at that day," Langer said.
We asked Langer if deportation would have kept Gutierrez off Oklahoma streets and he replied, "He still could have unlawfully reentered the country if he wasn't detected at the border when he came back in, and if this would have been his first encounter with law enforcement we would still be where we are at today."
NewsChannel 4 has learned that Gutierrez has no known criminal record in Oklahoma, and according to a police report, he worked for a local roofing company.
Gutierrez remains in the Oklahoma County Jail.
The Immigration and Customs Enforcement agency says it has placed a detainer on Gutierrez.
On Saturday, June 20, 2015, Bob Barry, Jr. was driving his motorized scooter southbound in the left lane on May Ave.
Police say 26-year-old Gustavo Gutierrez was in the right lane, also heading southbound.
Officers say Gutierrez made an illegal U-turn, trying to turn back to the north, and cutting in front of Barry.
That illegal turn caused Barry to slam into the driver's side of the car.
On Tuesday, Gutierrez was charged with causing an accident while operating a vehicle without a state driver's license and possession of cocaine.
The driving offense carries a punishment of up to five years in prison and a $5,000 fine. The drug possession carries a punishment of up to 10 years in prison and a $5,000 fine.
Both of those charges are felonies.
We have received many questions regarding the charges against Gutierrez.
Oklahoma County District Attorney David Prater told NewsChannel 4 that his office determined this was not a manslaughter case, which is a misdemeanor.
Prater says they determined it was a felony offense because Gutierrez allegedly caused an accident without a valid driver's license. Officials say that detail made the crime fall under a specific statute, which led to that charge.
"A charge of murder in the second degree may be appropriate because the accused was in the commission of at least one felony offense at the time of the accident and possibly two felonies. Apparently, the defendant had in his possession a small amount of cocaine, which, under Oklahoma law, is a felony offense carrying from two to 10 years in the state penitentiary. Additionally, it appears that the defendant may have been engaged in the federal offense of "illegal reentry into the United States" at the time of this tragic accident," criminal defense attorney David McKenzie said.
Since Gutierrez is also in trouble with federal immigration authorities, we've heard from some viewers concerned that he will be deported without serving time for Barry's death.
McKenzie says that isn't the case.
"He certainly will serve, upon conviction, prison time here before being deported. The Oklahoma Department of Corrections has hundreds of illegal immigrants in prison presently that are serving out their time and will be released directly to immigration authorities to be returned to their country of origin upon the completion of their sentence," McKenzie said.
A memorial service for Bob Barry, Jr. will be held Friday, June 26 at 11 a.m. inside Crossings Community Church.
If you would like to share a memory or condolences, you are welcome to sign the virtual guestbook.
In lieu of flowers the Barry family asks you to make a donation in Bobby's name to the Wounded Warrior Project.