This is an archived article and the information in the article may be outdated. Please look at the time stamp on the story to see when it was last updated.
NOTE: The following story contains graphic and disturbing details. Viewer discretion strongly advised
SPENCER, Ind. – A man accused in the death of a 1-year-old Indiana girl is facing additional charges in connection with the case.
Kyle Parker, 22, is charged with rape, murder, child molesting, kidnapping, strangulation and aggravated battery, KFOR sister station WXIN reports.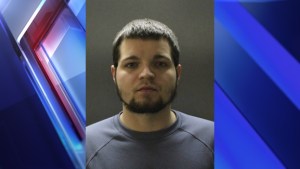 Last week, Parker was arrested on charges of obstruction of justice, failure to report a dead body and unlawful disposition of a body.
Parker was arrested after police discovered the body of 14-month-old Shaylyn Ammerman in a remote area located near the White River in Gosport, Indiana.
Little Shaylyn, just 14 months old, was last seen fast asleep in her crib after her grandmother put her down last Tuesday night.
Her family reported her missing the next morning.
Shaylyn's uncle, Adam Ammerman, told WXIN that Parker was at the Ammerman home the night the little girl disappeared.
"We sat in my room, watched TV, had a few drinks and went to bed," Adam Ammerman said.
At some point in the middle of the night, Parker left the home abruptly, allegedly taking off with the baby.
Police searched the area for more than 24 hours, until they found the little girl.
"I knew Kyle through a friend of a friend and he was supposed to be one good friend and then he turned around and does this to our family and all I can say right now is I hope he burns in hell," Adam Ammerman said.
Court documents released Monday showed Parker abducted and raped the girl; he then attempted to pin it on one of her family members, using bleach on the girl's body and his own in an attempt to destroy evidence.
A medical examiner said this was "the worst case of sexual trauma she had seen in her career."
The girl suffered multiple hemorrhages to her face and had a laceration on the upper left lip and a contusion on the lower left lip, the medical examiner said, according to WXIN.
She "suffered from multiple cutaneous abrasions and contusions to multiple body regions" in addition to severe trauma to her private areas.
Parker's stepfather is the one who called police to say his stepson knew where Shaylyn's body was located.
At first, Parker reportedly attempted to shift the blame onto Shaylyn's uncle, Adam Ammerman.
However, investigators didn't believe him because Adam Ammerman had passed a polygraph test.
Parker's stepfather told police that his stepson had confessed to the crime.
Parker allegedly told his stepfather that he abducted Shaylyn, put her in his car, drove down the street, raped her, then smothered her with "some type of cloth he already had in the vehicle."
According to court documents, Parker told his stepfather that he poured bleach on Shaylyn's body to conceal any traces of DNA.
He also reportedly used bleach to wipe down his own body.
The man said he was hoping he would create "reasonable doubt by using the bleach to destroy DNA and confuse the investigators by accusing a family member."
Parker said he hoped that would be enough to prevent charges from being filed in the case.
The Ammerman family told WXIN that Parker initially said he didn't know anything about Shaylyn's disappearance.
"You know that you did it and then be so straight, and calm, and cool and just lie for a day. A whole 24 hours of lying, when you knew where that baby was," said Tammy Morgan, Shaylyn's grandmother.
Shaylyn's funeral is scheduled for Wednesday.