This is an archived article and the information in the article may be outdated. Please look at the time stamp on the story to see when it was last updated.
NICOMA PARK, Okla. - An Oklahoma man has found a piece of someone's memories, a ring from a former University of Oklahoma student.
He's tried and tried for months to track down the owner.
Larry Terry, owner of Larry's VW Service, is a Volkswagon expert, especially when it comes to older models.
Larry said, "The old Volkswagon just won't die."
Larry's worked in his Nicoma Park shop for more than 40 years.
He's restored hundreds if not thousands of beetles, vans and even trucks.
He said, "There are so many things you can do with these old bugs; this is an old pickup."
About four months ago an old VW van came through his lot along with a piece of someone's past.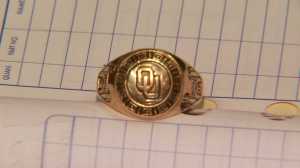 Larry said, "It just so happened the light was on it just enough that I saw something shiny in there."
Buried up inside the van and old ring.
"This ring didn't want to be lost because you would never find it," he said.
"This old bus was destined to be scrapped."
Larry's done everything he can think of to find the owner. 
"I called OU and they couldn't find him," Larry said. "We tried to find him in the phone book so we called you guys because you can find anyone."
The ring has the year 2001 on one side and the name "Garry Statts" is engraved on the inside.
Larry said, "I know if it belonged to me, I would love to have my ring back."
Over the years he's found many items in the old cars he's worked on.
He said it's mostly been just junk, until now.
Larry said, "This is the first time I found a big thing that I think they'd like to have back."
He's hoping someone out there either knows Garry or recognizes the ring and can help get it back to its rightful owner.
If you have information the ring's owner, you can contact Larry at his shop (405) 769-5491.