This is an archived article and the information in the article may be outdated. Please look at the time stamp on the story to see when it was last updated.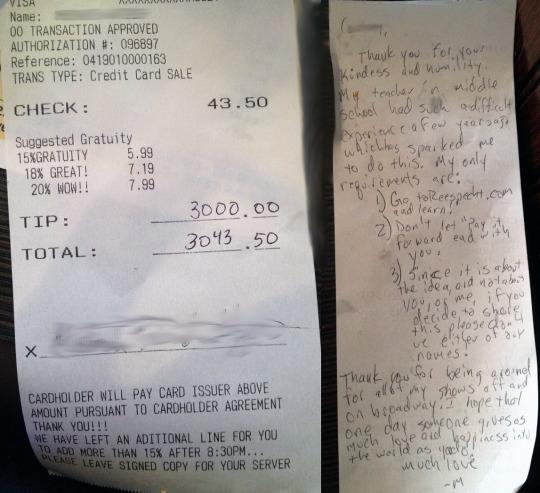 NEW YORK — A New York man left a nearly 7,000 percent tip for a struggling waitress.
ReesSpechtLife.com posted the photo of the $3,000 tip left by an anonymous diner on a $43.50 check.
On the back of the receipt, the diner wrote the following message:
Thank you for your kindness and humility. My teacher in middle school had such a difficult experience a few years ago which has sparked me to do this. My only requirements are:

1) Go to ReesSpechtLife.com and learn!

2) Don't let "Pay it forward" end with you.

3) Since it's about the idea and not about you, or me, if you decide to share this, don't use either of our names!

Thank you for being around for all of my shows on and off Broadway. I hope that someday someone gives as much love and happiness into the world as you do.
"This woman had been serving us for almost a year now. She's a lovely individual and she talked about how she was served an eviction notice last month," the man told ABC News. "I just had also been constantly thinking about for quite some time my teacher's project and this foundation, and I thought it was an appropriate time."
"ReesSpechtLife" is a pay-it-forward movement that was started by Rich Specht after his 22-month-old son died in a tragic drowning accident.
Specht and his wife started the pay-it-forward foundation to thank everyone who helped them after their son's funeral, according to ABC News.
To honor his former teacher, the anonymous diner decided to help the waitress with her rent.
"She really needed it and has been so happy since then, so I feel I did the right thing," he said. "She said she was going to devote herself to the foundation and continue to pay it forward."