This is an archived article and the information in the article may be outdated. Please look at the time stamp on the story to see when it was last updated.
OKLAHOMA CITY - The owner of four pit bulls that attacked a woman, leaving her critically wounded, was arrested on eight counts of failure to restrain a dangerous dog.
It happened last week near N.E. 29th and Lindsay.
54-year-old Terri Cosby was walking in the area when she was attacked by several pit bulls, leaving her critically injured. A neighbor who tried to help was also attacked.
Cosby is still recovering. Unfortunately, doctors had to amputate her arm.
Turns out, this has happened before.
"They said, if they hadn't been able to fix it, they would have had to amputate my arm or my hand," Steve Onley, a plumber, told News 4.
That close call happened after Onley responded to a job at the home where Dawntanya Franklin lived.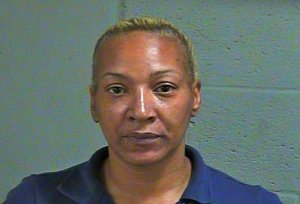 "About halfway through the yard, I saw the dog looking at me through a storm door. So, I turned around and started walking away, and the dog chased me. Got to the back of my truck, I couldn't quite make it," Onley said.
He said one of the dogs attacked him, digging his teeth deep into his arm.
"Simultaneously, the lady screamed about the time the dog bit down, and both dogs luckily listened and took off back to the house. Well, by then, got two arteries in my arm," Onley said.
He gained the strength to drive himself to the hospital.
"All I could think is get the bleeding to stop, get something to stop, get the bleeding to stop. Well, OU Med is 16 blocks away. That's the first place, I just thought just drive there," Onley said.
He had to undergo a three-hour surgery.
Doctors said he's lucky they didn't have to amputate.
"It's like, that'd be hard to do plumbing," Onley told News 4.
After the recent attack, three of the dogs were shot by police and the other was put down for rabies testing.
"Should have never happened. I just feel like, once it happened to me, it should have been taken care of," Onley said.
Onley said Franklin was apologetic when he spoke with her following the attack.
Onley is filing a lawsuit against Franklin and her landlord.