This is an archived article and the information in the article may be outdated. Please look at the time stamp on the story to see when it was last updated.
SHAWNEE, Okla. -Police are following several leads in hopes of finding a suspect who allegedly shot a man six times on Monday night.
Investigators say 25-year-old Javaughn Smith is in a medically induced coma after being shot in his own driveway earlier this week.
Crime tape still surrounds the victim's home while he recovers from the ruthless shooting.
Neighbors, like Jim Wright and his wife Margaret, have lived in the community for 50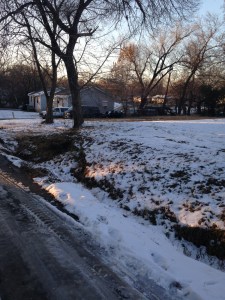 years and say this was the first shooting they've ever experienced.
"It makes us uneasy at our age," said Wright. "We're in our 80s."
Police say the gunman shot Smith when he was sitting inside his car on his driveway.
Five bullets went into his torso, one hit him in the face.
Amazingly, Smith had enough will to drive away from the shooter.
However, his vehicle ended up in a ditch nearby.
Officers found Smith in the wrecked car and paramedics immediately rushed him to the hospital.
"That is very sad," said Margaret Wright. "Nobody should have to go through that."
Friends and family weren't ready to talk about the shooting, but they have built a Facebook prayer group for Smith.
Neighbors say he lives with his girlfriend and they can't understand why he would be targeted.
"They stayed to their self, you know" said Jimmy Ezell. "Very nice people, you know. We never had no problems."
A merciless shooting in a neighborhood the Wrights once felt was safe.
"It does make me angry," said Margaret Wright.
Residents say they hope Smith makes it through and can help police find the gunman.
If you have any information on the shooting, contact Shawnee Police Department.