This is an archived article and the information in the article may be outdated. Please look at the time stamp on the story to see when it was last updated.
OKLAHOMA CITY – A man was taken into custody after a seven-hour standoff with police.
Officials responded to the area near N.W. 13th and Youngs around 9:30 p.m. Friday.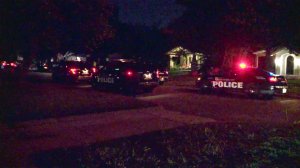 Police said the man barricaded himself inside of a home with a knife and claimed he had a bomb.
The bomb squad was called to the scene to investigate, but discovered the threat was false.
The suspect was taken into custody seven hours later around 4:30 a.m. Saturday.
Police say the suspect has a history of domestic violence, but it remains unclear why he was in a standoff with police.