This is an archived article and the information in the article may be outdated. Please look at the time stamp on the story to see when it was last updated.
OKLAHOMA CITY – Police are searching for a man who allegedly robbed a convenience store at gunpoint while wearing a monkey mask.
Oklahoma City police released surveillance video of the robbery at the Western Food Mart, located near Hefner Rd. and Western Ave.
The thief came into the store wearing the primate mask and brandishing a rifle.
Authorities say he demanded cash and told the clerk to get on the floor.
Police say he allegedly stole some cigarettes before leaving the store.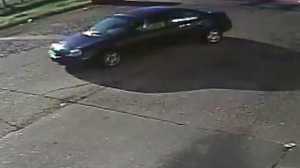 Fortunately, the clerk was not injured in the incident.
Officials are asking anyone with information on the crime to call CrimeStoppers at (405) 235-7300.