This is an archived article and the information in the article may be outdated. Please look at the time stamp on the story to see when it was last updated.
CANADIAN COUNTY, Okla. – Two people were arrested after nearly 80 pounds of marijuana were found inside of their rental car.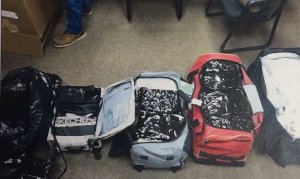 On May 11 at around 5:30 p.m., a Canadian County sheriff's deputy pulled over a vehicle for following too closely and changing lanes unsafely on I-40 and "immediately detected a strong odor of marijuana coming from the passenger compartment of the vehicle," as he approached the vehicle. Both the driver and passenger side windows were rolled down.
The driver, 23-year-old Josue A. Rigueur, of New York, was asked to exit the vehicle and sit in the deputy's patrol car. According to officials, Rigueur "began nervously biting his fingernails, and repeatedly kissing a medallion hanging around his neck."
When the deputy said he smelled marijuana coming from inside the vehicle, Rigueur admitted to having about three ounces of marijuana and stated he was traveling with the passenger, Marwa M. Osman, 25, of Virginia, who rented the car in California, and didn't know what was in the vehicle.
He also told the deputy he travels from California to New York every couple of months and stays with a famous rapper named "Rainbow," and occasionally with famous football players. Rigueur, who was driving under a suspended driver license, said he "really didn't know anything" about Osman, and that as soon as they got to Tennessee, he was going to go to Dubai.
When the deputy approached Osman and told her of the smell of marijuana, she "immediately began to cry, and asked the deputy if she could just talk to him for a minute." She admitted there was "a lot" of marijuana in the vehicle, but also said she didn't want to get into any trouble.
77 pounds of marijuana were found stuffed in duffel bags located in the back seat and trunk area.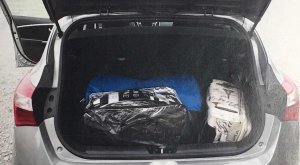 Both Rigueur and Osman were taken to jail and booked on charges of trafficking marijuana. Rigueur was also charged for driving under suspension.
Osman's bond was set at $100,000, and Rigueur's was set at $101,000.