This is an archived article and the information in the article may be outdated. Please look at the time stamp on the story to see when it was last updated.
OKLAHOMA CITY – A man and woman were arrested for first-degree murder following the shooting death of a man at an Oklahoma City strip club.
On October 19, just before 2 a.m., police responded to a reported shooting at Night Trips near N. Meridian Ave. and Reno Ave.
When police arrived, they found Jazman Coulter, 29, on the ground in the parking lot with gunshot wounds. He was taken to the hospital where he later died.
A witness told police he and Coulter were standing the parking lot near a dark-colored Chevy Tahoe after the club closed, talking to people.
At some point, an affidavit states Coulter "became involved in a physical fight" with a man standing near them.
The witness told police he saw the man, later identified as Harvey Booker, 30, "reach into his own pocket" and then "heard the sound of gunshots."
An affidavit states video surveillance shows the fight in the parking lot between Booker and the victim, and a "flash of light" between them.
Coulter is seen collapsing to the ground a few feet away, the affidavit states.
Booker then fled on foot, running westbound on Vermont Ave.
An SUV, which police say is the same vehicle Booker got out of just prior to the shooting, pulls down SW 3rd St. and stops. Booker gets into the vehicle and the SUV flees the scene.
Another witness who was in the parking lot at the time told police he saw a woman driving the Tahoe from the parking lot after the shooting occurred. The woman was identified as Jessica Villegas, 32.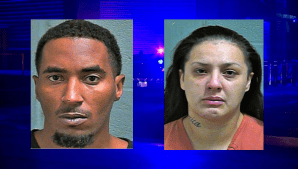 Police say Villegas was present at the time of the shooting and the Tahoe was registered under her name.
Arrest warrants were issued for Booker and Villegas. They were arrested Monday on charges of first-degree murder.