This is an archived article and the information in the article may be outdated. Please look at the time stamp on the story to see when it was last updated.
UPDATE 11:04 A.M.: Duke Surrell has been taken back into custody. Collin Pantoja has reportedly been sighted, but is still at large. 
GREER COUNTY, Okla. – Officials are looking for two inmates who escaped from the Greer County jail Sunday night.
Police say it is believed the two inmates, Duke Surrell and Collin Pantoja, stole a vehicle from Mangum. The vehicle was later found abandoned on Russell/Centralvue Road.
Surrell and Pantoja were not found in the area.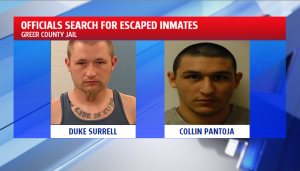 Mangum police believe they may be going west, possibly to Hollis, but an actual location is unknown.
Duke Surrell has hazel eyes, blonde hair, weighs around 175 pounds and is approximately 5'5″. He does have tattoos, including "S" on the right side of his neck, flames on his neck, tribal style.
Collin Pantoja has brown eyes, black hair, weighs 160 pounds and is approximately 5'6″.
If you see either Surrell or Pantoja, call 911 immediately and do not approach them.
Or, if you have any information, call the Greer County Sheriff's Office at (580) 782-3065 or (580) 782-5092.