This is an archived article and the information in the article may be outdated. Please look at the time stamp on the story to see when it was last updated.
SPIRO, Okla. – Thanks to the help of the Oklahoma Department of Corrections K-9 Unit and the Le Flore County Sheriff's Office, the manhunt for a wanted sex offender is over.
Authorities arrested Colton Potter, 25, who was wanted for failure to register as a sex offender.
Wednesday night, a tip led deputies to a mobile home where Potter was last seen.
Law enforcement knocked on the door of the home, and that's when Potter took off in a nearby wooded area.
A perimeter, along with roadblocks were set up, and the DOC K-9 Unit was called in for assistance.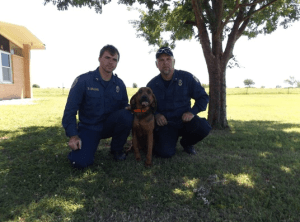 Two correctional officers and the 4-year-old bloodhound named Jade, searched for approximately a half mile, finally cornering Potter.
Their team came within 200 yards of Potter when he surrendered without incident.
Corrections Director Joe M. Allbaugh said the ability to assist local law enforcement and communities is an added benefit to the agency's growing K-9 program.
"I am pleased with the continued success of our K-9 program. We are going to continue to develop and refine this program in what we believe will be a model for law enforcement and corrections agencies around the country to follow," said Allbaugh.
Potter was on probation after serving time in prison for rape. He was released from prison in October 2016.
Recently, he changed addresses without notifying authorities, which is a violation of the terms of the sex offender registry.
He was also living in a home with two children and three adults, which is another violation.