This is an archived article and the information in the article may be outdated. Please look at the time stamp on the story to see when it was last updated.
UPDATE:  Two individuals were found dead at the scene of Triple X Road and 206th St just after midnight.
LINCOLN COUNTY, Okla. — Two Wellston officers were shot on Sunday night while responding to a shots fired call.
Part of HWY 66 is blocked off for a possible officer involved shooting. We're waiting on information. @kfor pic.twitter.com/aTo72kPtng

— Jessica Bruno (@JbrunoKFOR) October 24, 2016
It happened at 6:30 on Sunday evening near Wellston.
"He said thank you, thank you, kept telling me thank you," Chrystal King said.
On the way home from the grocery store, Chrystal King had the chance to be a hero.
"Both of them were bleeding out their legs pretty bad. So, we stopped and I got some old shirts out of the truck and tied them up. They told us just to stay low that the guy was out in the woods," King said.
King is talking about two Wellston police officers who were responding to a shots fired call with the Lincoln County Sheriff's Office.
"A gentleman came out with an AK47 and just opened fire on everybody. One officer has been shot in the foot, another officer has been shot in the leg," Sheriff Charlie Dougherty said.
Authorities have one suspect in custody but they are looking for Michael Vance who has been shot at least twice.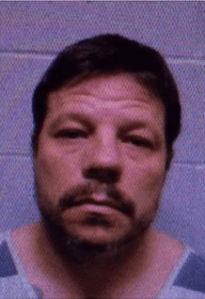 "From that residence he jumped in one of the patrol cars that was there and went across country through the pastures and stuff," Dougherty said.
He then carjacked a woman, shot and injured her and took off.
"He recently got out of my jail. He was accused of child sexual assault. We were doing an investigation, we arrested him. That is supposedly what set him off but we don`t know that for sure yet," Dougherty said.
The woman who was shot and the two officers received non-life threatening injuries.
We're hearing that the vehicle Vance carjacked was found at Triple X Road and Covel.
It is a white Continental with a blue top.
He is still possibly armed with the AK47.
Police say if you do see him, do not approach but call 911 immediately.