This is an archived article and the information in the article may be outdated. Please look at the time stamp on the story to see when it was last updated.
A pit bull is being called a hero for saving a deaf and sleeping teen from a raging house fire.
Two and a half years-old Ace is getting a lot of attention.
"He's just like one of the family members basically," said stepfather James Bernard said.
On Wednesday afternoon, The Bernard family's pet became an instant hero.
He is; he saved my life," said Nick.
13-year-old Nick Lamb, who is legally deaf, was sleeping without his Cochlear implants inside his home.
"He woke me up because I couldn't hear anything and I was asleep and I looked around my room and I smelled smoke and I could see a little bit of smoke in my room," Nick said.
"He had to get up on him in his face and stuff…he's a hero," mother Lindsay Bernard said.
IFD took pictures of the fire when they arrived on scene.
You can see how quickly flames took over the home.
"There was a bunch of loud popping noises and everything else, but the dog obviously knew something wrong and he went and woke him up," James Bernard said.
Lamb was in his bedroom on the second floor.
He says when Ace woke him up, he quickly grabbed one of his two Cochlear implants and they escaped.
"I took a breath and I went downstairs with Ace and the whole house was covered in smoke and a little bit of fire," Nick said.
This is what's left of the home.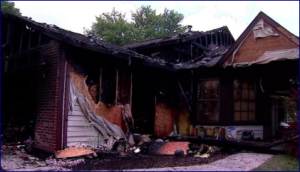 But the Bernard family says they have so much more to be thankful for.
Most of all, they are thankful for Ace.
Investigators think the fire may have started in the garage and estimate the damage at $175,000.