This is an archived article and the information in the article may be outdated. Please look at the time stamp on the story to see when it was last updated.
HUNTSVILLE, Ala. – After watching the Florida State Seminoles take it down to the wire against Auburn on Monday night, some fans were focused on a battle brewing on Twitter.
A.J. McCarron's mother and his girlfriend sparked outrage in many Twitter followers after they appeared to question the ability of Jameis Winston to speak English.
Winston, the Florida State quarterback, spoke to an ESPN reporter following the team's victory.
In part, he said, "We champions. We can share that. We are champions together. And through everything that we went through. Through all the haters. Through every single thing, we came out victorious. God did this."
McCarron's mother, Dee Dee, sent a tweet saying, "Am I listening to English?"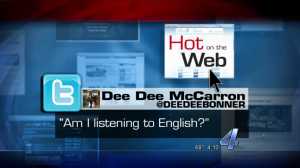 While McCarron's mother was speaking out about Winston's speech, his girlfriend was also showing her distaste for the situation.
Katherine Webb favorited a tweet that read, "Jameis Winston needs to learn sign language to communicate because listening to him attempt to speak English is just insulting."
[protected-iframe id="5888f474ba51622b10407371d086e58c-29519643-31344442″ info="//platform.twitter.com/widgets.js" ]
After many Twitter followers expressed outrage with the tweets, both women responded by saying they were not racist and apologized for offending anyone.
McCarron, who fell short of a Sugar Bowl title against the Oklahoma Sooners last week, did not respond to the controversy.