This is an archived article and the information in the article may be outdated. Please look at the time stamp on the story to see when it was last updated.
EDMOND, Okla. — Kevin McDonald, an English teacher and Chair of the English Department at Memorial High School, has been selected as the 2015-2016 Edmond Teacher of the Year.
The announcement was made Thursday at the Celebration of Excellence in Edmond.
"Students consistently identify Kevin McDonald as one of their favorite teachers," Superintendent David Goin said. "He's bright, articulate, enthusiastic and completely devoted to his students. He is a fitting representative of our finest educators."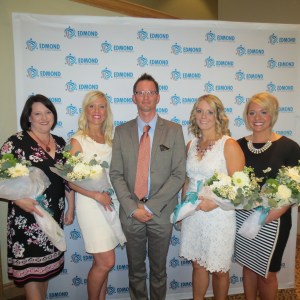 McDonald has been a teacher for 18 years. He joined Edmond Public Schools in 2004 after working for the Guthrie School district, where he was named Teacher of the Year in 2003-2004.
"Kevin McDonald is a passionate educator who opens and expands students' minds by challenging them to thoroughly examine what they are reading," said Tara Fair, Associate Superintendent of Education Services.
As EPS' Teacher of the Year, McDonald will now compete in the state Teacher of the Year competition facilitated by the Oklahoma Department of Education.
The state Teacher of the Year is announced in September.