This is an archived article and the information in the article may be outdated. Please look at the time stamp on the story to see when it was last updated.
OKLAHOMA CITY – Two men were arrested after they were caught making credit cards in an Oklahoma City hotel room, police say.
On November 21, police responded to a call at the Aloft hotel in downtown Oklahoma City in reference to white collar crime. The caller told police there was a man making fake credit cards inside a room at the hotel.
When police arrived, they contacted the front desk and went to the room where a man, Cody Ripley, 24, opened the door.
According to a police report, "in plain view inside the room were two laptops that were set up. Two printers, one in the area of each laptop, were set up ready to be used. There were numerous papers in plain view which appeared to have multiple credit card numbers listed in columns on the pages."
Police say laminating pages and a sack of ink cartridges were on the bed, along with an iron and ironing board set up. Other items were also found including X-Acto knives and a PayPal visa card that had no numbers on it. Another card on the floor had the back scratched off of it.
Another man was also in the room, Justin Reilley, 43.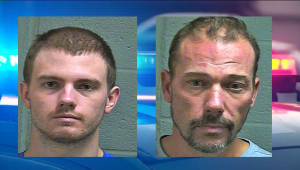 Multiple credit cards and checks that did not belong to Ripley or Reilley were also found during a search.
Ripley and Reilley were arrested and booked into the Oklahoma County jail on several charges including possession of fake credit cards and possession of taken credit cards.