This is an archived article and the information in the article may be outdated. Please look at the time stamp on the story to see when it was last updated.
OKLAHOMA CITY –  A metro family is still shaken after they walked into their home to find it ransacked and cleaned out.
On Friday, two young girls and their father walked into the house and discovered that they had been targeted by thieves.
"I walked in and I saw that the back door was kicked down, and theTV was gone," said 11-year-old Aurora Sitts. "My dad told us to go outside and get our jackets. I started crying because I didn't know what was happening."
Surveillance video shows the back end of the burglar's blue older model car parked in their driveway around 2:30 p.m. on Friday.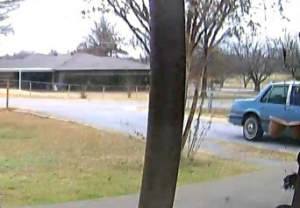 "Broad daylight, middle of the day," said Aurora's mother, Brandy Sitts. "They were very brazen."
The thieves tore the house apart and took anything they could get their hands on, including a television set, jewelry, unopened Christmas gifts, an engagement ring, and the art deco heirloom ring Brandy inherited from her grandmother.
"It really hurts that I lost my grandmother a few years ago and now I've lost that too," Brandy said.
They even ransacked the girls' rooms.
"They destroyed the 5-year-old's bedroom, which is just bizarre," Brandy said. "What are you going to take from a 5-year-old?"
And they stole Aurora's lunch money she had been saving up.
The burglars left behind fingerprints on the televisions that were mounted to the walls that they couldn't remove. There was also a receipt left behind that police are hoping will help lead to those responsible.
Meanwhile, the Sitts family is working to repair what's broken, and replace what was lost. But Brandy is more worried about the deeper scars left behind.
"I keep having this dream of that person kicking down the door," Aurora said, "but I can't see that face."
Both Aurora and Brandy are losing sleep since it happened.
"For me, it's just stuff, but for my kids, it's their sense of safety and security that's been violated," Brandy said. "And right before a holiday season, I think [it] comes a lot harder for them."