This is an archived article and the information in the article may be outdated. Please look at the time stamp on the story to see when it was last updated.
OKLAHOMA CITY – A Los Angeles Lakers basketball player says he was inappropriately touched by a ghost at an Oklahoma City hotel.
The mysteries surrounding the Skirvin Hotel have been talked about for years as many people claim the 105-year-old hotel is haunted.
In recent years, many opponents of the Thunder have said they had trouble sleeping in the hotel because of one not-so-quiet fan.
Paranormal investigator Christy Clark spoke with KFOR in 2014 after a sports commentator said he encountered the downtown ghost known as Effie. 
Clark said she has heard countless stories about the ghost.
"When you have an old building chances are you're going to have a lot of ghost stories told about it," said Clark.  "Effie has been reported as a naked woman and she is seen getting in the shower with some of the male occupants there in the hotel. She's also seen propositioning some of the males when they're in their bedrooms."
As legend has it, Effie was a maid who had an affair with the hotel owner and became pregnant.  She was apparently locked away on the tenth floor.  When the baby was born, she was so depressed that she jumped out the window ending her life, along with her newborn baby.
"So you have to take a collage of all these different stories and it can't be a figment of their imagination. If you have more than one person or a group of people that are experiencing things, chances are you have something paranormal taking place," Clark told KFOR in 2014.
Effie is known for playing pranks on people by knocking on doors, whispering and opening drawers.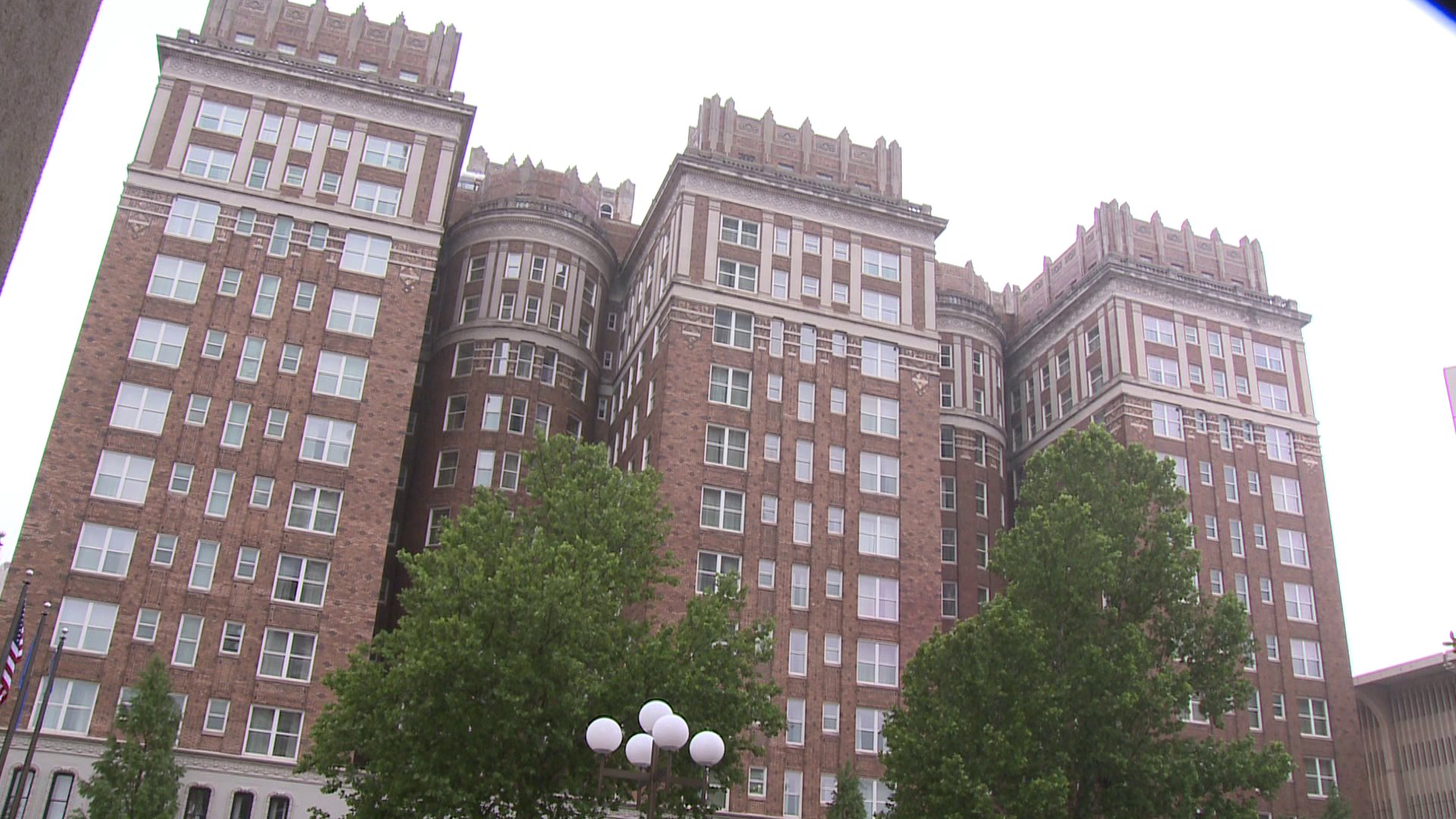 Sunday, when the Los Angeles Lakers were in town to play the Oklahoma City Thunder, some of the players refused to stay at the Skirvin and paid for their own rooms at a nearby hotel, the Orange County Register reports.
"I'm not going to play with that. I'd rather pay for my peace of mind," Lakers guard Lou Williams told the Orange County Register. "If they say it's haunted, that's enough for me. I'm not going to roll the dice."
"I prefer to stay away from the supposed supernatural," forward Larry Nance Jr. said. "I just don't want any issues."
Although some of his teammates chose to steer of the supposedly haunted hotel, Metta World Peace thought he would chance it.
He told the Orange County Register that he did encounter a mystical presence during his stay.
"The ghosts were all over me. I just accepted it," Lakers forward Metta World Peace said. "They touched me all over the place. I'm taking one of the ghosts to court for touching me in the wrong places."
Although the basketball star made light of the situation, he insisted he was serious about what he experienced.
While some people believe in the presence of Effie, others think she is a myth.
"Keep in mind, if a woman were to throw herself and her baby out of a tenth floor window of the Skirvin, that would have made the news. This would not have escaped notice," Steve Lackmeyer, who co-authored the book Skirvin on the historic hotel, previously told KFOR.
Regardless of there not being any official record of Effie, she continues to spook many guests, especially out-of-town athletes.