This is an archived article and the information in the article may be outdated. Please look at the time stamp on the story to see when it was last updated.
MIDWEST CITY, Okla. - The Mid-Del Public School District is asking voters to help keep students safe while they are at school.
Mid-Del administrators are hoping voters will pass a $10.4 million bond issue, which will fund security improvements to their schools.
Officials say almost every school in the district needs major safety improvements.
They say they've been working with the community, along with local law enforcement, and feel this bond issue is what's needed to keep students safe as the district moves forward.
Mid-Del Superintendent Pam Deering said, "We want our parents to always feel comfortable and secure that when their children come to school, they will be safe."
As visitors enter most Mid-Del schools, they are asked to come to the office.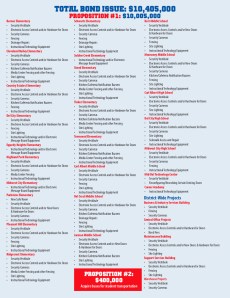 However, nothing really keeps them from going straight to a classroom.
It's an entrance style that has become a concern in today's society.
Deering said, "We assessed all of our needs last spring as a result of the Sandy Hook tragedy."
The district is asking voters to upgrade security at all schools.
Kevin Hill, the principal at Epperly Heights Elementary School, said, "Being able to have the children come in to a safe place is wonderful."
Epperly Heights is a school which has already been upgraded with money from a previous bond issue.
Among the improvements at the school is a new safety entrance.
Hill said, "Every school deserves the opportunity to have a safe school. To buy time, if an intruder comes in, is a valuable commodity."
Every door in Epperly Heights can be locked at once.
Administrators can also screen who comes in the front door.
Officials say they have 32 cameras that are always rolling.
Hill said, "I can see every inch of this school, every inch."
Beyond security, the bond issue would upgrade technology at each school.
Deering said, "As more requirements are made for state testing, we need our students to be familiar with the technology to be able to take the tests online."
It's a $10.4 million bond issue district officials say will actually cost voters less than a dollar-a-week.
Deering said, "We feel that is a small price to pay for the safety and security of our students."
The bond issue also includes funding to add a safe room to Parkview Elementary.
In order to pass, the bond issue needs at least 60 percent of the vote.
Our crews did not find any opposition to the measure among those they spoke with Thursday.
Most parents we talked with want to fund the improvements.
The election is scheduled for Feb. 11, 2014.
Click here for a larger version of bond issue.