This is an archived article and the information in the article may be outdated. Please look at the time stamp on the story to see when it was last updated.
DALLAS COUNTY, MO – A man wanted in connection to a double homicide in Dallas County, Missouri, has connections in Oklahoma, officials say.
Officials are looking for Billy Sage Medley, 22, who is wanted in connection with the murders of Joe and Brandy Allen of Tunas, Missouri. The Dallas County Sheriff's Office says Joe and Brandy were found dead outside of a home in Tunas on September 30.
"It appears that during the early morning hours of this same date, the homeowners interrupted an attempted robbery/invasion. The homeowners engaged in a gun battle with the intruders, resulting in the loss of their lives," the sheriff's office said in a post on Facebook on September 30.
One other man, Jeffrey Dale Lee Stevenson, was also arrested in connection to the murders.
Medley is described as a white male with brown hair and hazel eyes. He is approximately 6'0″ tall, weighs between 190 and 250 pounds. He also has a tattoo on the inside of his index finger, a tattoo that stretches onto his left shoulder and a tattoo on his upper right bicep.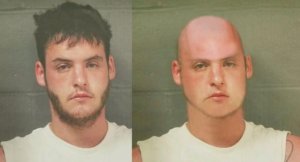 Medley is considered to be armed and dangerous, and has connections in the western part of Missouri, Kansas, Yukon, Oklahoma. Officials say he has connections and family in Yukon, and may be looking for refuge in that area.
He may have attempted to alter his appearance.
If you have any information, call the Dallas County Sheriff's Office at (417) 345-2441 or 911.
A $1,000 reward is being offered for information leading to the location and arrest of Medley.