This is an archived article and the information in the article may be outdated. Please look at the time stamp on the story to see when it was last updated.
OKLAHOMA CITY – Governor Mary Fallin's veto of most of the budget bill is causing mixed reactions.
Fallin vetoed "most of the revised budget bill approved by legislators in special session" Friday night.
She vetoed all but five of the 170 sections contained in the House Bill 1019X, that was passed by the Senate Friday morning by a vote of 29 to 14.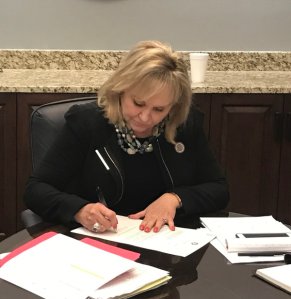 "Fallin's action keeps intact a $30 million emergency appropriation to the Department of Health, which will allow the agency to make its next payroll and be funded without cuts through the remainder of this fiscal year, which ends June 30," a press release stated.
Her veto will do away with $60 million in cuts to state agencies and use $60 million from revolving funds. The use of more than half of the state's $83 million in cash reserves will be reduced because of her line-item veto.
While some praise her decision, others are surprised by her action.
"Thank you, Governor Fallin, for your leadership in holding the legislature accountable for finding real solutions to our state's revenue crisis. After years of budget shortfalls, our legislators who have thus far been unwilling to join a compromise must stop passing the buck and balancing the budget on the backs of our most vulnerable citizens. Our teachers and school children cannot thrive in constant fear of budget cuts and scarcity. We must have a sustainable path forward to build Oklahoma's future," said OKCPS Superintendent Aurora Lora.
"We are surprised by the governor's veto. The governor's office was involved in the negotiation of the revised budget agreement, but did not indicate the agreement was insufficient and would be vetoed. The revised budget agreement was not the Senate's first choice to resolve the budget crisis but it was the only option after the House showed it was not able to meet the constitutional standards of raising revenue. Bringing the Legislature back into special session at this point seems like a waste of time and taxpayer dollars. The governor's veto doesn't help Oklahoma thrive, it only serves to throw our budget further into chaos," said Senate President Pro Tempore Mike Schulz, R-Altus.
"The governor's line-item veto of House Bill 1019X is a complete reversal of her promise to the Legislature and, frankly, to the people of Oklahoma. Her actions alone create uncertainty in Oklahoma for healthcare services, business investment, job creation and spending, all of which are economic drivers for our state. This veto action interjects more chaos and drama into the lives of Oklahomans at a time when they want stability. The governor could have simply kept her word and stabilized the current situation for Oklahoma by signing the bill that she promised to sign, and then she could have called the Legislature back for her second special session. Instead, the governor has chosen to make the pursuit of her own priorities superior to the those of the people of Oklahoma," said House Speaker Charles McCall.
"House Bill 1019X does not provide a long-term solution to the re-occurring budget deficits, and within three months we will come back facing an estimated $600 million shortfall. This will preserve a safety net for core health and human services until legislators come back for a second special session, which I intend to call in the near future. My action avoids immediate health and human services cuts and provides time for legislators to come back and approve revenue proposals that can provide a permanent fix.

As governor, I would like nothing more than to adequately fund agencies. The constant budget crisis has put us in survival mode. I want us to thrive. We will thrive when we can adequately and consistently fund our core services. That will happen when we find sustainable and predictable revenue sources.

Our inability to find a long-term solution to our budget problem puts our citizens and our economy at risk. We cannot give up. We must find solutions. Our citizens want a state government that works for them. They are tired of gamesmanship and want leadership. As difficult as it might be to return to the state Capitol, we must do so. As governor, I pledge, as I have done throughout this difficult period, to work with the Legislature. We came so close, with over 70 percent of the House and over 75 percent of the Senate voting for a viable budget plan.

Some legislative leaders have stated that revenue measures will be taken up in February when lawmakers return in regular session. But I am very skeptical because next year is an election year and the pressure not to do anything will be greater.

 We must find sustainable, predictable recurring revenue to fund our core services and get us out of the constant crisis. Let's finish our work for the sake of our great state and our hardworking people. I love this state and her people, and I will continue to work tirelessly with the Legislature for them." – Governor Mary Fallin
It is unclear when Governor Fallin will call a second special session, but News 4 is being told is will be before the start of the next regular session in February.