This is an archived article and the information in the article may be outdated. Please look at the time stamp on the story to see when it was last updated.
SHAWNEE, Okla. – A mother and her boyfriend were arrested in connection to the death of a 2-year-old Oklahoma child.
On Friday, 2-year-old Jamie Murdock, was transported to the hospital after she was reportedly found unresponsive.
Medical officials noted the child had head and abdomen injuries.
Sadly, Jamie succumbed to her injuries Saturday and was pronounced dead.
Police say the child died from bleeding and swelling of the brain.
Today, police told KFOR the child's mother, Whitney Breslin, 22, and her boyfriend, Cashe Graham, 22, were arrested in connection to the child's death.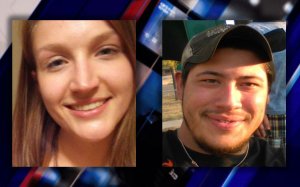 According to the police report, Breslin and Graham claim they do not know how Jamie sustained her injuries.
Breslin and Cashe were booked into the Pottawatomie County Jail for first-degree murder.
KFOR will update the story with their mugshots as soon as they are available.
This is a developing story. Check back for updates.