This is an archived article and the information in the article may be outdated. Please look at the time stamp on the story to see when it was last updated.
MOORE, Okla. -- Plans to give Moore a new hospital have been given a stamp of approval.
The Moore Medical Center was demolished back in June, a month after it was damaged beyond repair in the deadly tornado that hit Moore.
Richie Splitt, chief administrative officer of Moore Medical Center and HealthPlex Hospital, said "I'm excited to stand here today and talk about the future plans and the bright future we have for not only Moore Medical Center, but the overall community."
The Moore Medical Center was baby Allie's first home after the came into this world. Within a few weeks after she was born, Mother Nature took it all away.
Her mom, Shayla Mcininch, was ecstatic to hear about plans to rebuild the hospital in the exact same spot.
"I don't have a vehicle at the moment, so getting to Norman is quite difficult when Moore was just right down the street from us." Mcininch said.
The new hospital will be a $28 million, 5-story, 100,000-square-foot facility, focusing on outpatient care. The decision to cut in-patient services came from a community survey, and feedback from staff and volunteers at Moore Medical Center.
"Our design includes a phase two and could include an inpatient tower for the emerging demands of the community and the changing demands of healthcare as we know it today." Splitt said.
Mcininch is happy to see the progress, but it also makes her sad. She wanted baby Allie's future siblings to also be born at Moore Medical Center, and for other moms to enjoy the same experience.
"They should be able to have their babies there, it was really good staff," she said. "They helped me get through my labor really good and I was scared. It's kind of upsetting."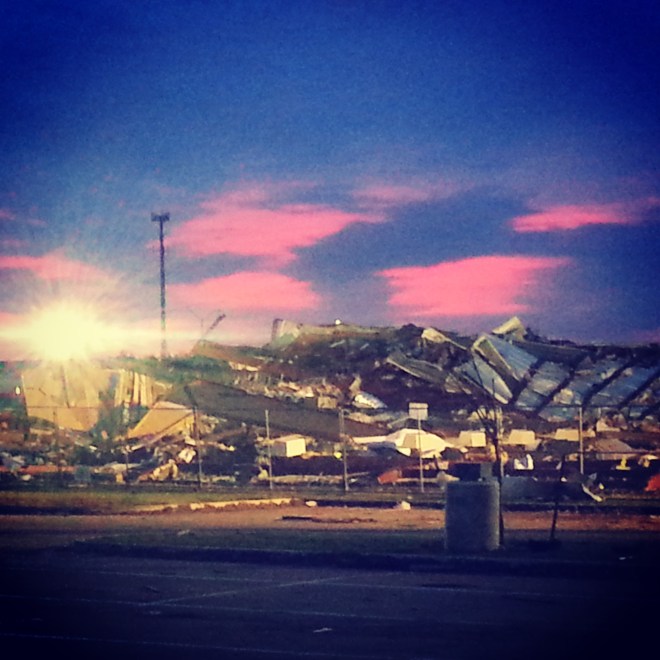 Temporary freestanding emergency departments will meet the medical needs of Moore until the hospital is finished. Both the temporary and permanent site include an above ground tornado shelter for future storms.
The temporary emergency department will open the beginning of December. The new Moore Medical Center should be finished by 2016.
"I'm looking forward to just getting her back to where she needs to be and everybody going back to their normal routines." Mcininch said.