This is an archived article and the information in the article may be outdated. Please look at the time stamp on the story to see when it was last updated.
CHICKASHA, Okla. – More than 1,000 pounds of dog food were donated to the City of Chickasha Animal Shelter thanks to Tractor Supply Co. of Chickasha.
The shelter is dedicated to responding to quality of life issues within the City of Chickasha regarding animal welfare. It's important to the shelter that the animals find their forever homes.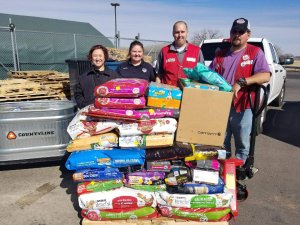 Donations from local businesses and individuals make their mission possible.
"I am overwhelmed by the generosity of this donation and would like to thank Tractor Supply Co., and everyone involved, for their hard work that made this donation possible," said Lt. Traye Alexander of the Chickasha Police Department.
Any individual or group interested in making a donation to the shelter can contact Animal Control Officers Laycee Graham or Valerie Cates at the shelter at 405-222-6093, or Lt. Traye Alexander at 405-222-6097.