This is an archived article and the information in the article may be outdated. Please look at the time stamp on the story to see when it was last updated.
OREGON –  A mother was arrested after police found her two children abandoned in a park while she allegedly went to get a new tattoo.
Deputies arrested 28-year-old Ana Lara after responding to a 911 call of a family who found two children unattended in a public bathroom in a park.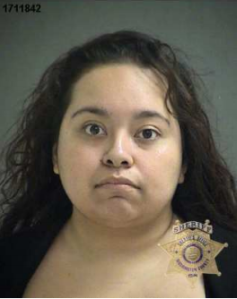 When officials arrived on scene, they found two children, ages three and eight, unsupervised.
"The children were frightened when it began to rain and hid in the park bathroom," police said in a press release.
The children were dropped off by Lara while she went to a local tattoo parlor, according to officials.
About 20 minutes after police found the children, Lara returned to the park to pick up her children.
Deputies believe Lara left her children unattended for at least an hour so she could get a new tattoo.
She was arrested and charged with two counts each of criminal mistreatment in the first degree, recklessly endangering another person, and child neglect in the second degree.
She has since bailed out of jail.
The children were placed in the care of another family member.