This is an archived article and the information in the article may be outdated. Please look at the time stamp on the story to see when it was last updated.
OKLAHOMA CITY — After a number of delays, Charles Frederick Warner is now scheduled to die by lethal injection January 15, 2015.
It was August 22nd, 1997 when Oklahoma City Police detectives first arrested Warner for the rape and murder of his girlfriend's baby girl.
According to a video-taped interrogation, Warner told police the baby fell off the bed.
In 1999, an Oklahoma County jury first convicted Warner of rape and first degree murder.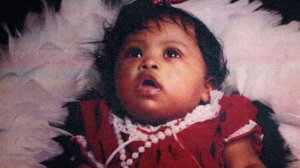 They gave him the death penalty for killing 11-month-old Adrianna Waller.
Lou Keel prosecuted the case in 1999, and again in 2002 and 2003.
"Adrianna couldn't do anything to protect herself, either sexually or from suffering the ultimate violence at the hands of Charles Warner." said the prosecutor Lou Keel.
The autopsy report shows Adrianna's skull was broken; she had a fractured jaw, bruising consistent with shaken baby and rape.
"Charles Warner was convicted twice by juries and given the death penalty each time and given 75 years for the sexual assault." Keel said.
Charles Warner has been behind bars since the day of the murder. He now awaits his execution at the Oklahoma State Penitentiary.
Warner was up for clemency in March.
The board denied Warner's request, but during that proceeding he found himself with a surprising ally, the mother of his young victim spoke up on his behalf to spare his life.
Shonda Waller is baby Adrianna's mother. She was just 22 years old when her infant was raped and murdered by Charles Warner.
Waller testified in each trial, re-living the details of her daughter's death over and over again.
She says she doesn't remember the prosecutor ever asking what she thought about justice for Charles Warner.
"I don't want to see him to be sentenced to death." Waller said. "If they truly want to honor me then they will do away with the death penalty for him and they will give him life in prison without the possibility of parole because that's the only thing that's going to honor me."
Waller is adamantly against the death penalty. She is a Christian and a victim of a vicious crime, and she believes God alone is the giver and taker of life.
"I can only see him spending the rest of his life in prison and dying in prison without him ever walking outside of those cell walls." said Waller. "I don't see any justice in just sentencing someone to die. To me, the justice is in someone living with what they have done to you to your family, and having to live with that the rest of their life knowing they will never get to walk out those doors."
"That's a very powerful statement." said American Civil Liberties Union (ACLU) Legal Director, Brady Henderson. "I think she hits it right on the head when she said you know what this person took life, this person murdered. This person killed. Now we're just doing the same thing in my baby's name. That's wrong. That's fundamentally wrong."
Oklahoma is one of 32 states where criminals can be sentenced to death.
There are 18 states that have abolished capital punishment.
"We can't control that somebody killed someone. We know murders happen sometimes. What we can do is make sure we don't commit them as a state. We can make sure that we as a people don't murder. We don't kill. We don't take life. We don't make the same mistake of failing to value life." Henderson said.
Death penalty advocates believe there are some crimes for which the only appropriate punishment is death.
"This person doesn't deserve to live." said Keel. "If you're going to have a death penalty, if there are going to be some crimes, some homicides, that are so atrocious… then the rape and the brutal murder of a child has to qualify."
"When he dies I want it to be because it's his time, not because he's been executed because due to what happened to me and my child." said Shonda Waller. "I don't want that on my hands. It makes me feel like I'm no different than him, and I don't want to feel that way."
Waller has moved out-of-state and has no plans to come back to Oklahoma to witness Warner's upcoming execution.