This is an archived article and the information in the article may be outdated. Please look at the time stamp on the story to see when it was last updated.
UPDATE: 4:25 p.m. CT- The FBI is seeking information from anyone who knew the deceased shooter, Aaron Alexis. Please call 800-CALL-FBI or submit a tip online at https://tips.fbi.gov
The 13 dead include the suspected gunman, Aaron Alexis.
UPDATE: 3:15 p.m. CT-Three victims from the Washington Navy Yard shooting who were flown to MedStar Washington Hospital Center are expected to make full recoveries, hospital Chief Medical Officer Janis Orlowski told reporters.
All three are in stable condition, including two who are in surgery. She said she would not expect the hospital to receive any additional victims from Monday's shooting.
UPDATE: 1:54 p.m. CT-– Police have cleared one of two people they were looking for in connection with the shooting at the Washington Navy Yard. "The white male in the tan outfit has been identified and is not a suspect or person of interest," Metropolitan D.C. Police tweeted Monday afternoon.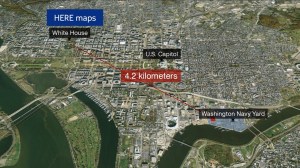 UPDATE: 1:46 p.m. CT-NBC News is reporting several officials say the gunman in the Navy Yard shooting is identified as 34-year old Aaron Alexis, originally from Ft. Worth, Texas.
Officials say he recently began working as a civilian contractor.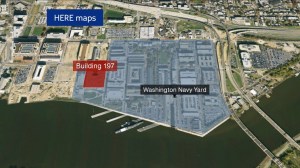 UPDATE 1:13 p.m. CT-The death toll in the Naval yard shooting in Washington now stands at 13 according to the D.C. Police Chief.
Officials are still searching for two additional suspects. One is a white male between the age of 40 to 50 wearing a tan military-style uniform. The second suspect in described as a black male between the age of 40 to 50 wearing an olive military-style uniform.
The Senate is recessing until Tuesday morning because of the shooting at the Washington Navy Yard, Senate Majority Leader Harry Reid said Monday. He said votes scheduled for Monday evening will be rescheduled.
UPDATE: 11:22 a.m. CT- "Multiple" victims are dead inside the Naval Sea Systems Command headquarters building after at least one gunman opened fire Monday, D.C. Police Chief Cathy Lanier said.She could not provide a confirmed number of victims.
Lanier also said they were searching for two more possible shooters on the loose.
UPDATE: 11:10 a.m. CT- Watch a live news conference on the Naval yard shooting.
http://www.nbcnews.com/video/nbcnews.com/53022971
UPDATE 10:44 a.m. CT – Three patients — one man and two women — admitted to MedStar Washington Hospital Center had multiple gunshot wounds, resulting in "severe injuries," chief medical officer Janis Orlowski said Monday. The injuries do not appear to be life-threatening, she said.
UPDATE 10:31 a.m. CT –  Two suspected shooters "are down" at the Washington Navy Yard, according to Ed Zeigler, director of Public Affairs for Naval District Washington. Zeigler was not able to confirm whether the suspected gunmen had been taken into custody or killed.
"Multiple" people have been killed in the shooting at the Washington Navy Yard, Zeigler told CNN's Dan Merica.
UPDATE 10:12 a.m. CT – A gunman dressed in all black fired shots Monday inside the U.S. Navy Yard, injuring at least 10 people, according to the Navy and a Washington police spokesman.
The U.S. Navy tweeted there are "several confirmed injuries with reports of fatalities."
#BREAKING: #USNavy confirms several injuries with reports of fatalities at #NavyYardShooting. More to follow.

— U.S. Navy (@USNavy) September 16, 2013
The injured included a Washington police officer who has been hospitalized and another law officer not affiliated with the city force, said Metropolitan Police Department spokesman Chris Kelly.
The incident occurred at 8:20 a.m. when several shots were fired inside the headquarters for Naval Sea Systems Command in southeast Washington.
An "active shooter" remained inside the building, the Navy said.
MORE: Get updates from U.S. Navy here
Kelly described the suspect as an adult male, about 6 feet tall with a bald head and medium complexion, dressed in a black top and black jeans.
Two witnesses told CNN affiliate WJLA that they heard a fire alarm go off in the building where they worked, then saw a man with a rifle down the hallway as they exited the building.
"He aimed the gun and fired our way," a man who identified himself as Todd Brundidge told WJLA, adding, "I couldn't believe it."
People frantically tried to run out of the building, Brundidge said.
"Everyone was going down the stairs," he told WJLA. "They were pushing. They were shoving. People were falling down."
Emergency personnel, the FBI, U.S. Capitol Police and local D.C. police responded to the shooting, shutting down traffic in the area on the District's south side along the Anacostia River.
Some people are being evacuated and others are sheltering in place.
At least six schools were on lockdown as a precaution, the Washington public schools said in a Twitter post.
Amidon-Bowen, Eliot-Hine, Tyler, @EasternHS, Brent, @JATrojans & Van Ness admin building are on lockdown as precaution. #NavyYardShooting

— DC Public Schools (@dcpublicschools) September 16, 2013
Air traffic to Reagan National Airport in northern Virginia, the closest airport to downtown Washington, was suspended but later resumed, the Federal Aviation Administration said.
A White House statement said President Barack Obama was briefed on the situation.
The headquarters, the workplace for about 3,000 people, is the largest of the Navy's five system commands.
It has a fiscal year budget of nearly $30 billion.
"With a force of 60,000 civilian, military and contract support personnel, NAVSEA engineers, builds, buys and maintains the Navy's ships and submarines and their combat systems," the Navy said.
The Navy first informed the public of the incident in a Twitter message.
#BREAKING: #USNavy confirms active shooter at Washington Navy Yard. More to follow.

— U.S. Navy (@USNavy) September 16, 2013
Emergency personnel were on the scene and a "shelter in place" order has been issued for Navy Yard personnel.
#BREAKING: #USNavy confirms 1 injury. "Shelter in place" order issued for Navy Yard personnel. #NavyYardShooting

— U.S. Navy (@USNavy) September 16, 2013
Photos of shooting scene from twitter here:
The U.S. Navy has released biographical data for Aaron Alexis:
Age: 34
Home of Record: New York City, NY
Date Enlisted: May 5, 2007
Rank/Rating: Aviation Electrician's Mate 3rd Class / AE3
Date of Rank: Dec. 16, 2009
Duty Station: Fleet Logistics Support Squadron (VR) 46, Fort Worth, TX
Reported: 01Feb2008
Detached 31Jan2011
Duty Station: Commander, Fleet Logistics Support Wing
Reported: 06Jan2008
Detached: 01Feb2008
Duty Station: Various Professional Training
Reported: 10July2007
Detached: 13Sept2007
Duty Station: Recruit Training Command, Great Lakes, IL
Reported: 08May2007
Detached: 10July2007