This is an archived article and the information in the article may be outdated. Please look at the time stamp on the story to see when it was last updated.
MUSTANG, Okla. - Authorities have one man in custody after a high-speed chase through Mustang overnight.
Officials said the suspect allegedly went to a Walmart parking lot and started shooting at vehicles.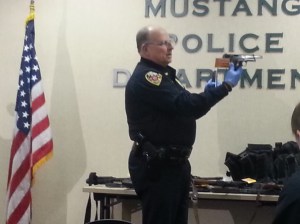 Once police arrived, they said the suspect reportedly started shooting at officers and sped off heading Southbound on I-44 near Airport Rd.
Police chased the suspect with Oklahoma Highway Patrol for about 15 minutes.
The chase ended near I-40 and Council Rd. just before the suspect got onto the interstate.
The suspect reportedly reached speeds over 85 miles per hour.
Officials said they found several guns and a bullet-proof vest in the suspect's grey Dodge Charger.
Authorities say they arrested 29-year-old Justin Smallwood for the crime.
He is being charged with leaving the scene of an accident that resulted in property damage, shooting with intent to kill, felony eluding a police officer, discharge of a firearm from vehicle, possession of a firearm during commission of a felony