This is an archived article and the information in the article may be outdated. Please look at the time stamp on the story to see when it was last updated.
YUKON, Okla. – A couple was arrested for allegedly distributing drugs out of a home across the street from a daycare facility and near a school.
Authorities arrested 30-year-old Adam Aragon and 42-year-old Kimberly Struble following a two-month long investigation.
Investigators received a tip that drugs were being sold out of a home in Yukon.
On Sept. 21, deputies executed a search warrant at the home and found multiple types of marijuana, methamphetamine, Adderall and hashish.
Officials say the home is across the street from a licensed and operating in-home daycare facility and less than 1,200 feet from Shedeck Elementary School and Yukon's Chisholm Trail Park.
"As if it's not bad enough that they were selling drugs across the street from a day care center, they were also in violation of state law by selling drugs within 2,000 feet of an elementary school," said Sheriff Randall Edwards, with the Canadian County Sheriff's Office.
At the time of their arrests, officials with the Canadian County Sheriff's Office said Aragon was unemployed but investigators say Struble was a teacher at Mustang High School.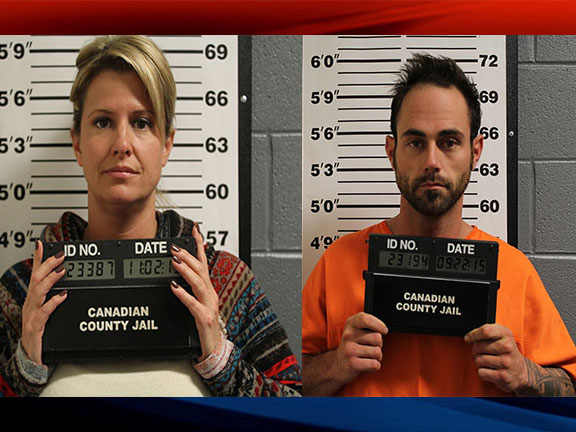 "I hope the citizens of Canadian County are as outraged as I am that a school teacher had a dope dealer and addict living with her, and selling drugs out of her house," he said.
Aragon was arrested on two counts of possession of a controlled dangerous substance with intent to distribute, one count of possession of marijuana with intent to distribute; both within 2,000 feet of a school and after a former conviction.
He was also booked on illegal possession of drug paraphernalia and knowingly concealing drug proceeds.
Struble was arrested on a possession of marijuana charge.
According to officials with Mustang Public Schools, Struble is still employed, but she is currently on paid administrative leave.
They say this is her first year with the district.