This is an archived article and the information in the article may be outdated. Please look at the time stamp on the story to see when it was last updated.
LOWER TOWNSHIP, N.J. – Emergency crews and firefighters say at least two people were injured after a house exploded in New Jersey.
Authorities were called to the home shortly before 4 p.m. after neighbors reported an explosion.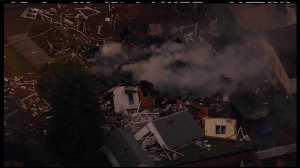 The house appears to be completely leveled.
According to NBC 10, a husband and wife were airlifted to an area hospital with burns.
However, there is no word on their condition.