This is an archived article and the information in the article may be outdated. Please look at the time stamp on the story to see when it was last updated.
MIDWEST CITY, Okla. — Investigators made a big break in a murder case that's been cold for nearly two decades.
Kirsten Hatfield vanished from her bed in the middle of the night in 1997. Now, 18 years later, the man who lived just two doors down is behind bars for Hatfield's kidnapping and murder.
Police say DNA links Anthony Palma to the crime scene.
Investigators say back in 1997, Palma's DNA wasn't in the national DNA database that helps solve so many crimes.
He wasn't really on officers' radar back then either.
Recently, investigators decided to go back out and re-interview all those original male suspects in the case, mostly men who lived in Hatfield's Midwest City neighborhood.
They all agreed to DNA testing, even Palma, who's now sitting in jail.
Kirsten Hatfield's picture was all over the news 18 years ago.
Her community was haunted by the disappearance of the little 2nd grader taken from her bedroom in the middle of the night.
But after a fresh look at the case and some complex forensic work, police arrested Anthony Palma, Kirsten's neighbor.
He was one of the original suspects recently re-interviewed by investigators. He consented to a DNA sample.
"In July of this year, we received a report from OSBI that indicated the blood sample from Kirsten Hatfield's panties, and also the blood in the window sill matched Anthony Palma, and the match was 1 in 293 sextillion," Midwest City Police Chief Brandon Clabes said.
That's nearly a perfect match.
Tuesday, Kirsten's mother, Shannon Hazen, was comforted by her family outside police headquarters.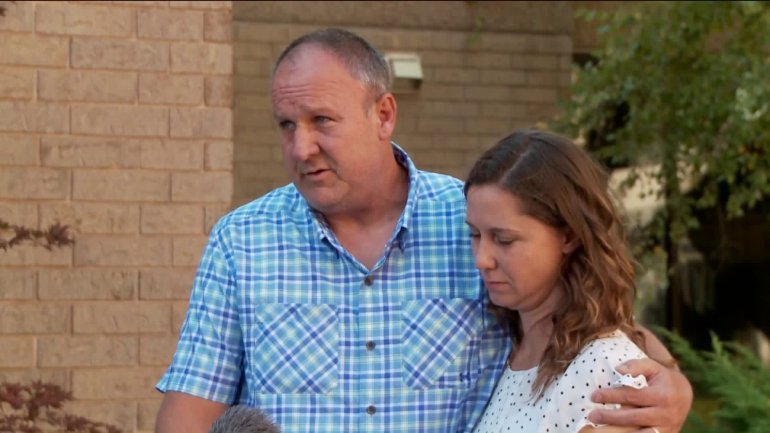 For many months, she went out with search teams desperately looking for her little girl.
"We want to take this opportunity to let all our family and friends know we're okay, and please continue to pray for us," Shannon's husband, Chris Hazen, said.
Police were doing surveillance on Palma, who still lives in the same house he did when Kirsten was kidnapped.
Investigators contacted Palma over the weekend and arrested him.
Palma is being held at the Midwest City jail without bond.
Police are still interviewing him.
Kirsten's body has never been found.
Police aren't saying whether Palma has confessed or said where the body is.
Kirsten would've been 26-years-old this year.