This is an archived article and the information in the article may be outdated. Please look at the time stamp on the story to see when it was last updated.
OKLAHOMA CITY — A home exploded in northwest Oklahoma City just after 3 a.m. Saturday, Jan. 2, 2016, and officials are still trying to figure out exactly what happened.
One home was completely leveled and at least 50 other homes in the neighborhood were also damaged in the explosion.
Three people were transported to area hospitals, including the man who lived in the home that exploded.
ONG crews have been at the back of the lot where the incident happened, continuing to investigate.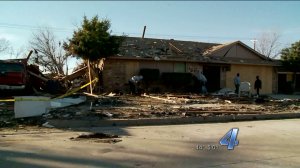 Homeowners in the neighborhood have been out salvaging what they can and taking a look at the immense damage that was caused last night.
The doors of the home directly across the street from the blast were dead-bolted and still blew clear off the hinges, and the ceiling of a 17-year-old boy's room collapsed on top of him.
The head of that household said it was very frightening and traumatizing, and said it was difficult to even recount those details for us. But he talked about what he heard at the time of the explosion.
"It was just a large thud, kinda like if you took a firecracker and it under water and the thud, just really deep bassed thud…" Adam Marks said." And it just shook me and I knew from earlier that it had to have been a gas explosion."
A spokesperson for ONG told NewsChannel 4 that they do not have any new information at this time. They say they are still trying to figure out exactly what happened.