This is an archived article and the information in the article may be outdated. Please look at the time stamp on the story to see when it was last updated.
OKLAHOMA CITY – New details are being released related to charges being filed against an Oklahoma City police officer.
On Friday, the police department announced that Sgt. Cecil Moss, a 12-year veteran of the force, was facing charges.
On Monday, Oklahoma County District Attorney David Prater filed a charge of pointing a firearm at another against Moss.
According to the charges filed on Monday, Cecil Moss "willfully, knowingly, and without lawful cause, pointed a firearm at Kurt Ward, Paulette Henson"  and a child "for the purpose of threatening and intimidating them."
On April 4, an officer was called to an assault with a deadly weapon involving an off-duty police officer.
Ward told police that he went home to meet his ex-girlfriend, who is Moss' daughter.
He said that he, his mother and his child were there to see his newborn, who was in the custody of Moss' daughter.
When Ward walked into his home, he told police that he saw Cecil Moss in the baby's bedroom.
According to the affidavit, he told authorities that he ran for the front door because he was afraid of Cecil.
He got back into his car and told his mother that they were leaving.
According to the charges, the victim saw Cecil step into the street, lift his shirt and pull out a gun.
Ward's mother remembered her son saying, "Oh my God, mom, he's got a gun."
Ward "stated Cecil was pointing the gun at him and his mother, so he dropped into the floorboard," the report alleges.
As the car passed the house, the victim told authorities that he heard two "bangs" that he believes was Cecil kicking the door and hitting the car with his gun.
However, he said he didn't think Cecil fired any rounds from the gun.
Court records show Moss has a very different story, saying he pointed the gun because he feared for his life.
He told investigators that he thought the driver was going to run over him.
Ward's mother says that was not the case.
"He had the gun out before I was going forward," Henson said.
According to a police report, Moss says he did not fire the gun because there was a baby in the car.
He says he eventually moved to the side and the car brushed against his leg.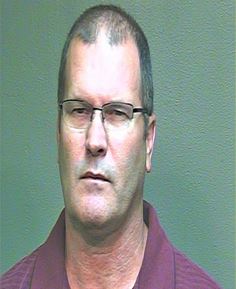 Moss will continue to be on paid administrative leave as the police department continues the internal investigation of this incident.
On May 20, Moss was booked into the Oklahoma County Jail on charges of Pointing a Firearm at Another.
His bond is set at $4,000.
See a mistake? Report a typo here.