This is an archived article and the information in the article may be outdated. Please look at the time stamp on the story to see when it was last updated.
OKLAHOMA CITY - Even though Leva Caroline Drummond posted bond, she didn't answer her door on Friday.
Drummond was arrested after federal agents raided her home Wednesday and found loaded weapons.
"She's a great neighbor," said David Bennett. "Been very friendly; works in the yard when she's home."
The Northeast Academy Teacher was taken to jail for being a felon in possession of a firearm.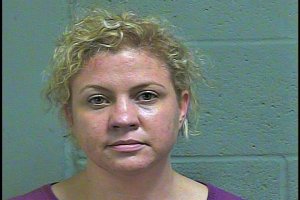 According to documents, she was linked to the Irish Mob and disbarred from practicing law after delivering a cell phone to her then boyfriend - and client - in jail. According to court documents, it's a relationship that started when he was one of her students.
Despite background checks, how did Drummond, who carries a dark past and appears to be the perfect neighbor, end up in the classroom?
News 4 took that question to the state and the school district for answers.
OSBI says it shared records of Drummond's criminal history with the Oklahoma State Department of Education.
The State Department of Education says, "a deferred sentence is not a conviction and, according to state statute, cannot be grounds for denial of certification."
However, the department says it did share Drummond's records with Oklahoma City Public Schools.
Regarding Drummond, the district told News 4:
"This is her second year as a teacher in the district. Ms. Drummond is not a 'convicted' felon based on the applicable law."
Friday, OKCPS sent News 4 a statement saying: "The District did receive the OSBI background check and was aware of her 2-year deferred sentence when we she was hired."