This is an archived article and the information in the article may be outdated. Please look at the time stamp on the story to see when it was last updated.
OKLAHOMA CITY – A new mental health hospital in Oklahoma City looks to add to the greater need for additional mental health and substance abuse treatment facilities in the state.
Oakwood Springs, a 72-bed adult treatment center located at W. Memorial Drive and North Western Avenue on the city's northwest side, cut the ribbon on the new facility late Monday afternoon.
Long overdue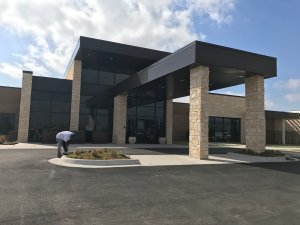 "It's way overdue for the epidemic of mental health," said Cathy Costello, the wife of former Oklahoma Labor Secretary Mark Costello. "And, I'm delighted that they chose Oklahoma to build another one of their facilities here. We will be blessed by it."
Cathy's family's story has become a familiar tale since her husband's death, killed by her son about a year and a half ago.
"The greatest challenge that Mark Costello and I faced was when we learned that our son, our oldest son, was diagnosed with severe mental illness," Cathy said prior to the ribbon cutting. "It's an epidemic – mental illness is an epidemic. I think it's the most important issue in the state of Oklahoma."
A holistic approach
"We're here because there's a great need within the state of Oklahoma for more inpatient psychiatric beds," said Michael Truman, Oakwood Springs' CEO. "I think one of the things that will really make us different than what people are used to is, one, our building has been built with state-of-the-art safety features and our staff that we've hired have gone through an extremely rigorous process to be selected."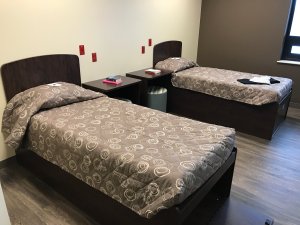 Another thing, Truman said, is the hospital's holistic approach to total patient care.
Walking through the facility, it looks more like what would be seen in a college dormitory than a facility designed to treat those with mental illness or substance abuse problems: communal living spaces, lock boxes for belongings, a fitness center with treadmills, elliptical machines and yoga mats.
"Yoga is a part of our therapy, as well," Truman said. "We'll be bringing in art therapists, music therapists, pet therapy, a number of other things, just to enhance people's lives."
Numbers rise as budgets are cut
Budget cuts have severely impacted mental health agencies in the state.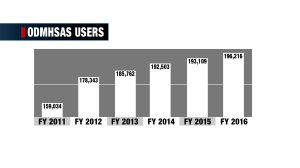 According to the Oklahoma Department of Mental Health and Substance Abuse Services, the number of users the agency served has gone up by nearly 40,000 people over the last six fiscal years (2011-2016).
"Is that indicative of a growing issue?" Jeff Dismukes, ODMHSAS Communications Director, was asked.
"Well, there's certainly growing demand," he said. "We've never, never, in Oklahoma, have we ever had enough resources to meet demand. That's just the way it's always been. We consistently have more people than we're able to serve."
But, Costello hopes Oakwood can be added to the list of the countless others in the state, looking to do the same.