This is an archived article and the information in the article may be outdated. Please look at the time stamp on the story to see when it was last updated.
NEWCASTLE, Okla. -- To compensate for a seven percent funding decrease, the Newcastle Board of Education is instituting several new measures in an attempt to save money.
In a letter to parents Wednesday the board announced all field trips are terminated unless they are completely paid for, an increase in class size, no new textbooks, graduation ceremonies will be moving from the Lloyd Noble Arena to a less expensive venue,  the elimination of a classroom allowance for teachers to buy supplies , and they will be adopting a four day school week.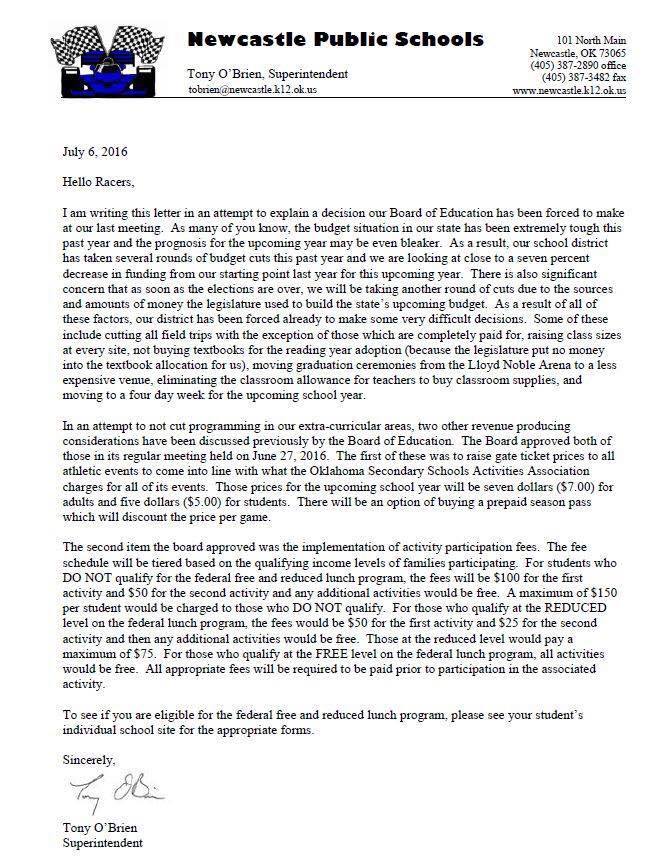 They will also be raising admission prices to school athletic events to seven dollars for adults and 5 dollars for children.
The district will also be implementing an activity participation fee.
The fee is tier based on the income level of the family.
For students who do not qualify for free and reduced lunches, the fee will be $100 for the first activity, $50 for the second activity, and any activity after that would be free.
Students who do qualify for the free and reduced lunch program will be assessed a $50 fee for their first activity, $25 for the second, and no charge for any additional activities.