This is an archived article and the information in the article may be outdated. Please look at the time stamp on the story to see when it was last updated.
NORMAN, Okla. — April is Sexual Assault Awareness Month, and Norman Police are doing their part to raise public awareness and educate the community about sexual violence.
During the month of April, Chief Keith L. Humphrey has authorized that Norman PD Officers wear teal ribbon pins, the designated support ribbon color for Sexual Assault Awareness Month.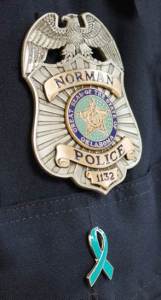 "The ribbons are worn for the purpose of beginning conversations to promote positive societal change to end sexual violence," according to a press released from the department. "The teal pins that officers will wear on their uniforms is a reflection of that commitment and another step forward in our mission to make the City of Norman the safest city in America."
The Norman Police Department is also joining the international "Start by Believing" movement to raise public awareness, enhance support for survivors, hold offenders accountable, and build a safer community.
Start by Believing is a public awareness campaign designed by End Violence Against Women International to change the way we respond to rape and sexual assault.
If you are a survivor of sexual assault and would like to make a report, please call 405-321-1444.  If you are a survivor of sexual assault and you are not ready to report to police but need resources, please call the Women's Resource Center Sexual Violence Crisis Line at 405-701-5550.
Click here to find out more information about the Start by Believing campaign.