This is an archived article and the information in the article may be outdated. Please look at the time stamp on the story to see when it was last updated.
NORMAN, Okla. - Norman police say the father at the center of an Amber Alert was taken into custody Wednesday night. However, police say the whereabouts of his 7-month-old son is still ongoing.
UPDATE: 31YO Victor Minjarez has been taken into custody. The investigation regarding the whereabouts of 7-month-old Jody Minjarez is ongoing.

— Norman Police (@normanokpd) March 8, 2018
The Norman Police Department issued the Amber Alert Wednesday morning for 7-month-old Jody Minjarez.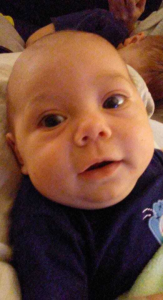 Officials say it all started February 19 when they responded to a report of a domestic assault in the 1500 block of Lakecrest Drive.
Officers determined that 31-year-old Victor Manuel Minjarez violently attacked the mother of his child and then fled the residence with their son, Jody Minjarez.
On February 23, the victim, the child's mother, obtained an emergency Victim Protective Order (VPO) that ordered Jody to be returned to her.
Victor Minjarez has since sent a text message to a friend telling her to tell the victim that she would never see her son again.
Because of this, police believed Jody Minjarez was in imminent danger of bodily harm or death.
Victor Minjarez fled the scene of the incident with the child driving a rented U-Haul pick-up truck.
The Amber Alert was canceled Wednesday night after Victor Minjarez was taken into custody. However, the whereabouts of 7-month-old Jody is still ongoing.
If you have any information, call police immediately.