This is an archived article and the information in the article may be outdated. Please look at the time stamp on the story to see when it was last updated.
NORMAN, Okla. -- Norman police call it a saturation patrol and Sunday evening their target was the area around Lake Thunderbird.
"A lot of just two lane country roads that are quite dangerous with the speeds that people drive in that area," said Lt. Clay Bolin with the Norman Police Department.
Last Sunday, there were two fatality accidents out there.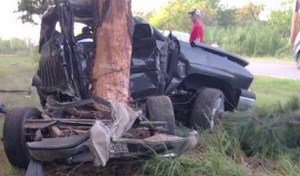 One was on 180th just north of Blackberry Road where a truck completely wrapped around a tree.
A nearby homeowner guessed the driver was going more than one hundred miles per hour.
"I think the speeds contribute a lot to the severity of the accidents in that area," said Lt. Bolin.
Norman police were hoping to change some of that behavior Sunday evening by tripling the amount of officers normally patrolling there.
They pulled people over and wrote tickets for speeding and not wearing seat belts.
They also worked several wrecks, including a roll over accident and a car that ran off the road into a tree.
Residents in that area said it was much needed.
"I'm glad they're doing it.  I just wish they had more police out here doing that.  Maybe that would open someone's eyes," said Hank Jackson.
It's the last holiday of the summer and a big lake holiday.
Police were focusing on distracted driving, alcohol related offenses and especially speed.
"If they  meet a couple of police cars in a short distance then they're probably going to drive a little more reasonably once they get beyond those for a while," said Lt. Bolin.
Bottom line, police officers say it's about saving lives and preventing the deadly accidents that are becoming all too common in the area.
Police say during the saturation patrol, they pulled over about 40 different vehicles and made two arrests.
They did not have any DUI's.