This is an archived article and the information in the article may be outdated. Please look at the time stamp on the story to see when it was last updated.
OKLAHOMA CITY – Firefighters are battling a two or three acre grass fire in far northwest Oklahoma City.
Officials were called to the area of N.W. 164th St. and Rockwell Ave. shortly after 2 p.m. Thursday on a grass fire.
When they arrived on scene, they realized the fire was inching closer to homes in the area.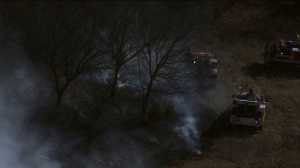 The fire appears to be behind the subdivision but authorities are concerned that the strong winds could carry an ember, causing the fire to reignite somewhere else.
Shortly before 2:30 p.m., it appeared that the fire is contained.
Forecasters are warning that the state is under a high fire danger for Thursday.