This is an archived article and the information in the article may be outdated. Please look at the time stamp on the story to see when it was last updated.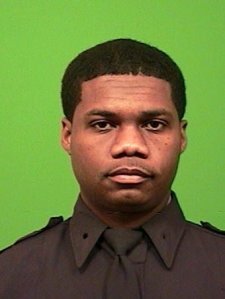 NEW YORK — An exchange of gunfire in East Harlem set off a chain of events that ended with the fatal shooting of a New York police officer 13 minutes later, the New York Police Department said Wednesday.
It wasn't the usual cops-versus-criminals confrontation, but a circuitous unfolding of events that underscores both the speed at which officers work and the dangers of the job.
It started at 8:30 p.m. Tuesday with a pair of housing police officers on a rooftop who witnessed a shooting on the street and called for assistance, said William Aubrey, NYPD's chief of detectives for Manhattan.
Some 18 blocks away, Officer Randolph Holder and his partner heard the call.
The communications on the radio informed officers that one of the suspects — later identified as Tyrone Howard — had fled north, and to aid his escape stole a bike at gunpoint from a bystander.
Holder and his partner were 16 blocks away from where the bike was stolen.
According to Aubrey, Holder heard the transmission about the shooting and stolen bike, and he and his partner followed three people who they determined had nothing to do with the shooting or the theft.
At that point, Howard — the suspect on the bike — came across the officers, put the bike down and pulled out a gun, Aubrey said.
He allegedly shot Holder in the head. Holder died hours later.
The suspect then moved toward Holder's partner, who drew his service weapon and fired, police said.
Other officers apprehended Howard four blocks uptown.
Holder was the fourth officer killed in the line of duty in the city in the past 11 months, according to police Commissioner William Bratton. Nationwide, 30 police officers have been killed in the line of duty so far this year.
Tyrone Howard was twice recommended for a diversion program in 2014, but never attended, a law enforcement source told CNN.
New York Police Commissioner William Bratton has criticized court officials for recommending Howard for the programs, which give offenders who face nonviolent charges the chance to attend treatment programs instead of jail or probation.