This is an archived article and the information in the article may be outdated. Please look at the time stamp on the story to see when it was last updated.
OKLAHOMA CITY – Oklahoma Department of Corrections officials are searching for a man listed as a "parole absconder" since Monday for failing to check in with his Probation and Parole officer.
Charles Poe, 48, was paroled in 2015 on a 50-year sentence for drug trafficking near a park or school.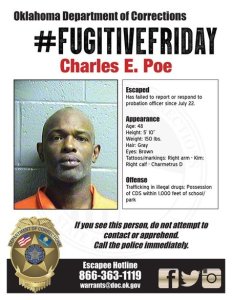 Poe is described as black, 5′ 10″ tall, weighing about 150 pounds, with gray hair and brown eyes.
He has a tattoo on his right calf that reads "Charmetrus," as well as a tattoo of "Kim" on his right arm.
The public should not approach Poe or attempt to apprehend him. Anyone with information can call our escapee hotline at 866-363-1119 or email warrants@doc.ok.gov.
All calls and emails are confidential.