This is an archived article and the information in the article may be outdated. Please look at the time stamp on the story to see when it was last updated.
OKLAHOMA CITY – A deadline is looming.
If lawmakers don't pass a plan to fund education by April 1, teachers will be walking out a week from Monday.
The Oklahoma Education Association is asking for a big raise for teachers – $10,000 –  but say they have a plan to back it up.
"The legislature has gone home for a three-day weekend with nothing on the table to prevent thousands of educators statewide from coming to the Capitol April 2nd to demand action," said OEA President Alicia Priest.
So the OEA is taking action on their own, presenting a plan to raise $905.7 million to fund education and a $10,000 teacher pay raise over three years.
The plan includes popular suggestions like a 5-percent gross production tax, along with tax hikes on cigarettes, alcohol, motor fuel, and wind generation. But it also calls for new tax considerations like expanding new casino games and a $5-per-room hotel/ motel tax.
"This plan asks everyone to play their part and pay their part to give Oklahoma students a brighter future and all Oklahomans a hope that better days are ahead," said OEA Executive Director David DuVall.
News 4 asked Oklahomans if they're ready to pay more for everything from a glass of wine to an increase at the pumps, and got some mixed responses, even from those who believe our schools need these funds.
"Oh no, no, no, no, I moved to Oklahoma because it was cheaper and I was going to school here," said Jan Carter. "They can't raise the prices for gas."
Students were on hand Friday to back up OEA leaders and teachers.
Hope Davis, a sophomore at Moore High School, is categorized as a special needs student because she is deaf. She now has to take a geometry class online because there are no teachers at her school who are able to help her.
"If I have a question or need help, I have to go to countless lengths just to understand my teachers and peers," Davis said.  "I need that connection between my teachers and I to thrive."
Fourth grader Aidyn Phillips, from Lincoln Elementary in Ponca City, spent part of his spring break coming to the Capitol because he says he loves his teacher.
"She's on the tip of leaving her job but she really doesn't want to," Phillips said. "She loves kids and she's really, really nice."
Not everyone is on board with the plan. The Oklahoma Council of Public Affairs released a statement saying:
"The fact is teachers need a raise, but the ends don't justify the means. The OEA's 'Revenue Road Map' leads to a dead-end.

OEA's plan does not even balance, and it hits vulnerable, low-income and middle-income working Oklahoma families and small business owners while letting big wind corporations and tribes selling tobacco keep cash subsidies they don't need. It does all this while state revenues are up, coming in above projections, resulting in a surplus for the state.

Some of the proposed tax increases—particularly the income tax hikes—would damage our state's competitiveness for years to come. Others would fail to bring in the predicted revenues, guaranteeing future budget shortfalls. And taxpayers will notice that there is nothing in the plan about better using existing funds.

"Anyone serious about giving teachers a raise is looking first at money the state and local districts already have, whether it is at the Commissioners of the Land Office, in the Building Fund, or being wasted in giveaways to filmmakers or TSET pet projects. From there, OCPA's 'Plan That Can Pass' sketches out a way to raise revenue without doing long-term damage to our state's economy."
The plan also included funds to be raised for the Oklahoma Public Employees Association.
Full details of these plans can be viewed below.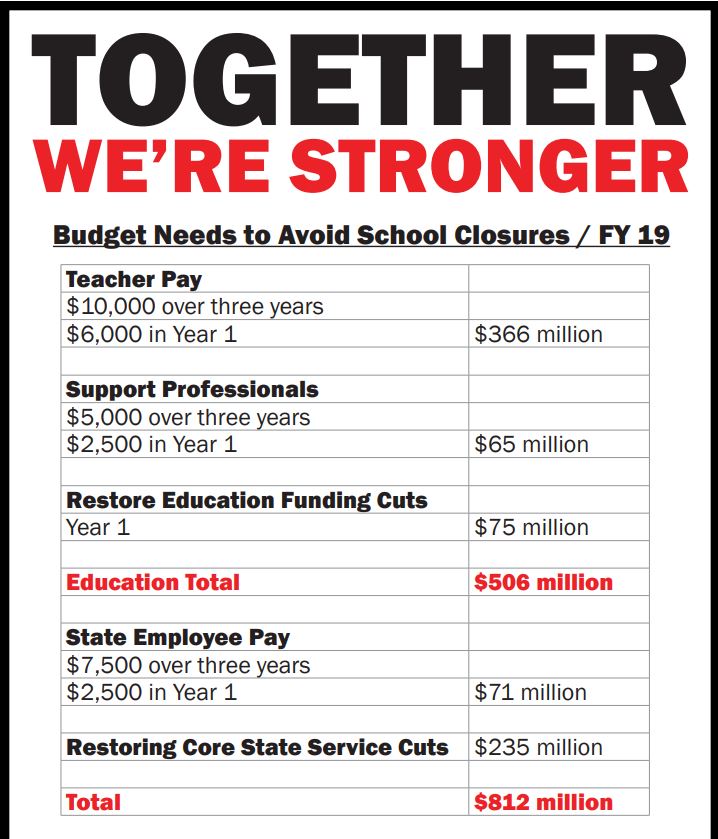 The OEA says it will host a series of town hall meetings to discuss the potential teacher walkout.