This is an archived article and the information in the article may be outdated. Please look at the time stamp on the story to see when it was last updated.
OKLAHOMA CITY – Investigators are looking into an accident in Oklahoma City that claimed the life of a driver Monday morning.
Just before 10 a.m., officers were called to E. Memorial Rd. and N. Post Rd. after two trucks collided.
When they arrived, they discovered one person was dead.
No word on other injuries at this time.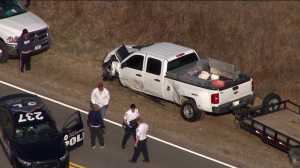 Authorities have shut down eastbound and westbound lanes of Memorial Rd. to clear the scene.